In part 1 we discussed the importance of understanding how hot water, heating and power demands can be cost-effectively brought into balance, and why hybrid systems are key to achieving long-term sustainability…
As well as being able to be cost-effectively controlled, a hybrid system can also be optimised for CO₂ emissions by selecting the optimal (ecological) heat generator whenever possible via an energy management system incorporating smart metering. Should the building envelope subsequently be renovated, the required heating load will decrease further, and the existing gas boiler can take on less of the annual heating work and eventually could even be retired.
Depending on a building's demand, we can also make a strong case for combined heat and power (CHP) where the CHP generates onsite electricity from a gas-powered engine, efficiently recovering heat from the process. Such an approach will still offer some carbon savings, definitely cost savings and, if that CHP is a low nitrogen oxides (NOₓ) micro appliance (m-CHP) when compared to the boiler, then we also have NOₓ saving. At worst, such a system is going to be carbon neutral but crucially low NOₓ which is increasingly a requirement for consultants and specifiers to pass building planning.
m-CHP also benefits from inclusion in the new SEG legislation so excess generated electricity can be sold to offset the CAPEX. The addition of m-CHP does require a certain level of oversight, so it is important to factor in the costs of regularly monitoring, managing and maintaining the system to ensure long term guaranteed efficiencies and relatively rapid ROI. As a result, compact micro-CHP systems have proven to be an extremely popular option across the leisure industry.
Adveco recently supplied Travelodge's flagship 395-room London City hotel with a system that features an Adveco TOTEM T25 m-CHP unit. With continual background electrical power use and large domestic hot water (DHW) demand, Travelodge committed to a system based on micro-combined heat and power (m-CHP) which, when compared to conventional hot water solutions, attains substantial improvements in energy efficiency and reduced emissions.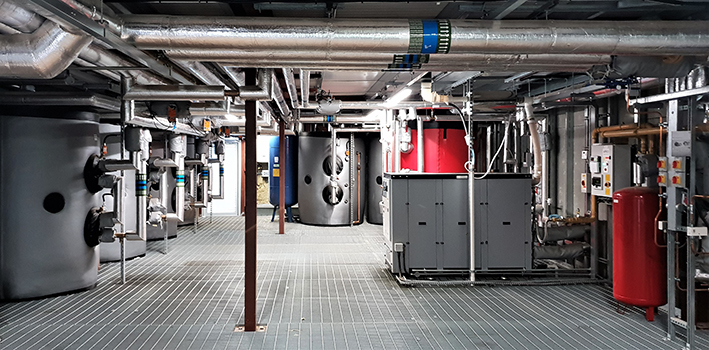 The m-CHP pre-heats the system water via an MSS buffer vessel, which feeds six stainless steel calorifiers supported by a 572 kW A.O. Smith Upsilon boiler cascade. These plant components, all supplied by Adveco were installed into a rooftop plant room and commissioned by Adveco's in-house team of engineers. m-CHP proved the most practical and cost-effective method for Travelodge to satisfy Part L of the Building Regulations, aiding its demand for sustainable and energy-efficient building design. And, with Totem's NOₓ emissions at less than 10 mg/kWh, Travelodge is able to significantly reduce the building's emissions of NOₓ, a potentially deadly polluting gas that is increasingly driving decision making for consultants dealing with projects located in highly urbanised areas.
Recently highlighted for its sustainability in industry awards, Adveco's m-CHP application was also used by Bromsgrove Sport and Leisure Centre. Operated by Everyone Active, this was part of a large new build project designed to meet strict building and environmental standards. The new £10.3m facility providing a range of services to the local community including two swimming pools, sports hall and climbing wall, a 100-station gym, a fully-featured spa, and a café. With the pools and associated year-round heat demand, the leisure centre required a high-performance heating system.
To achieve the high level of energy efficiency to serve the building's heating system required a 25kWe, 57kWTh TOTEM T25 -CHP appliance, as well as a bespoke 3000-litre buffer vessel, controls and ancillaries. Adveco additionally supplied two A.O. Smith BFC120 condensing water heaters to serve the domestic hot water supply to the leisure centre.
Since commissioning in early 2018, the TOTEM T25 at Bromsgrove Leisure Centre achieves 7,000 operational hours a year for an annual saving of as much as £10,000.  By producing both electricity and heat from the same supply of input fuel, the associated net reduction in carbon emissions has been more than 65,000 kg per year.
For leisure projects, high-efficiency condensing boilers and gas-powered m-CHP continue to offer considerable economic advantages in terms of operational costs for built assets. They also remain a realistic and effective means of meeting the demands for improved sustainability, which can be greatly enhanced by combining these technologies with other renewables. Whilst a gas/hybrid approach may be perceived as more conservative, it offers a route to a more sustainable future without removing potentially necessary and therefore valuable energy infrastructure which would be needed to support the introduction of green gas with its lower carbon footprint. Critically, a hybrid approach helps to plan for the future without being prohibitively costly.
Read more about the project at Bromsgrove Leisure Centre
Watch our video on the advantages of micro CHP for commercial buildings 
https://adveco.co/wp-content/uploads/2020/04/Bromsgrove-Leisure-Centre-Adveco-T25-web.jpg
326
598
Gary Marshall
https://adveco.co/wp-content/uploads/2023/07/adveco-logo-hot-water-specialists1.png
Gary Marshall
2020-04-27 14:56:16
2021-07-09 09:00:46
Sustainable Energy For The Leisure Industry – Part 2