Adveco FPi32 Range Named Finalist in 2021 National ACR & Heat Pump Awards
Commercial hot water and heating specialist Adveco is delighted to announce it has been named as a finalist in the 2021 National ACR & Heat Pump Awards for its range of FPi32 Air Source Heat Pumps (ASHP).
The Adveco FPi32 is a range of compact monobloc design 6, 9 & 12 kW air to water heat pumps providing hot water at 55°C, or higher in hybrid systems. The FPi32 range leverages R32 refrigerant to enhance year-round efficiency (COP as high as 5.23) while reducing the global warming potential (GWP), thereby lowing environmental impact. The judging panel's selection process assessed the FPi32 range on a number of key attributes including technical innovation; energy efficiency; environmental impact; plus installation and operational benefits for customers.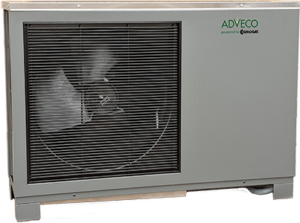 With Advanced Vector Control technology delivering accurate response to variable demands, integrated, intuitive controls, non-return valves, pressure gauges, and frost protection as standard, FPi32s are easy to install and maintain with low running costs. The FPi32 also features low noise impact with quiet 52dB operation.
The FPi32-9's compact monobloc form factor also makes it perfect for integration into Adveco's Packaged e-Hot Water System.  A complete, highly efficient, low carbon, all-electric packaged water heating system that uses the FPi32-9 to provide preheat for reliable high-temperature water supplied in a convenient GRP housing.
Bill Sinclair, technical director, Adveco, said, "The use of R32 refrigerant may be a relatively small step in terms of technical development, but its use has major implications in terms of taking us toward responsible, sustainable systems that deliver business-critical hot water without harming the environment. Not only does this go a long way towards helping businesses meet carbon targets this decade, but it also helps keep running costs low."
The winners will be announced at the National ACR & Heat Pump Awards on October 20th and we wish all the other finalists the very best of luck.
https://adveco.co/wp-content/uploads/2021/08/Heat-Pump-Awards-Banner-525x250-1.jpg
250
525
Gary Marshall
https://adveco.co/wp-content/uploads/2022/10/logo-and-strapline.png
Gary Marshall
2021-08-23 11:52:38
2022-07-14 09:24:15
Adveco FPi32 Range Named Finalist in 2021 National ACR & Heat Pump Awards