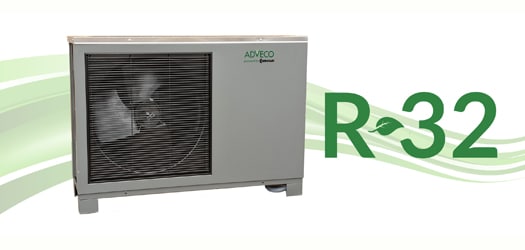 Adveco Reduces the Global Warming Potential of FPi Heat Pumps by 80%
Switches entire FPi monobloc ASHP range to R-32 refrigerant
Greater efficiency from a more compact form factor
Perfect for hybrid DHW systems that help reduce a building's energy consumption
Commercial hot water and heating specialist Adveco, announces the FPi32 range of more environmentally friendly air to water heat pumps designed for use with domestic hot water applications. The three models, available in 6, 9 and 12kW variants provide a low carbon source of hot water in a more compact, quieter, more efficient and easier to install unit.
With the new R-32 refrigerant circuit, this range of heat pumps address the environmental impact of previous refrigerants, whilst delivering zero impact on the ozone layer. The FPi32 requires almost a kilo less refrigerant to operate compared to the first generation FPi units, and this, with the gains from using R-32, means the FPi32 range has just 20% of the Global Warming Potential (GWP) of its predecessor.
Bill Sinclair, technical director, Adveco, says;
"The use of R32 refrigerant may be a relatively small step in terms of technical development, but its use has major implications in terms of taking us toward responsible, sustainable systems that deliver business-critical hot water without harming the environment. Not only does this go a long way towards helping businesses meet carbon targets this decade, but it also helps keep running costs low."
Due to advanced vector control technology, and improved compressor operation by using R-32 refrigerant, the efficiency of the FPi32 is much improved over the previous generation of FPi ASHP.  With accurate response to variable operational cycles throughout the year, the FPi32 range can achieve an above-average coefficient of performance (COP) up to a very high COP of 5.23. Seasonal COP is also raised, up as high as 4.74, meaning FPi32 ASHPs can make a real difference to a property's energy consumption.
Compatible with existing DHW distribution systems with higher thermal requirements, the FPi32 range is ideal for integration into a hybrid hot water system. Transferring heat from the air to a building, the FPi32 can provide 55°C hot water throughout the year, even when ambient air temperatures drop as low as -25°C.  When combined with either a gas or electric water heater and controls, the FPi32 helps reduce emissions and increases efficiency without compromising reliability or performance.
The Adveco FPi32 range is virtually maintenance-free, requiring simple, regular cleaning of the coil and filter. Sensors constantly check pressure, and each unit is equipped as standard with frost protection. This makes the FPi32 range of air source heat pumps an easy to install and maintain method for commercial sites to achieve lower cost, sustainable water heating.
Features: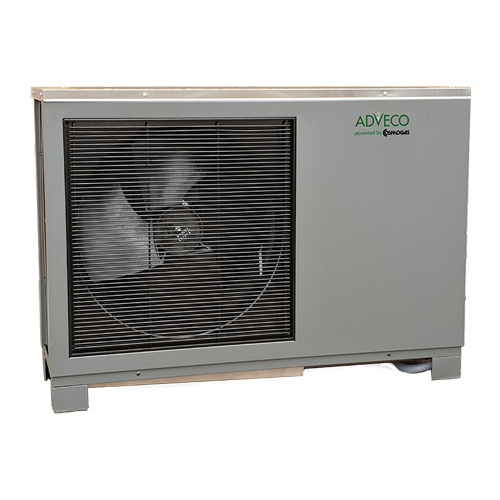 Compact monobloc design
Low GWP R32 refrigerant reduces environmental impact
Year-round efficiency with COP up to 5.23 / SCOP up to 4.74
Provides DHW at 55°C, or higher in hybrid systems
Easy to install and maintain with low running costs
Integrated controls, non-return valves, pressure gauges, and frost protection as standard
52dB(A) operation for low noise impact
Discover more about the Adveco FPI32 Range of Air Source Heat Pumps
https://adveco.co/wp-content/uploads/2021/06/R32-release-banner-525x250-1.jpg
250
525
Gary Marshall
https://adveco.co/wp-content/uploads/2023/07/adveco-logo-hot-water-specialists1.png
Gary Marshall
2021-06-18 09:56:49
2021-06-22 14:10:00
Adveco Reduces the Global Warming Potential of FPi Heat Pumps by 80%