Crisis Response – Replacing A Destroyed Hot Water System
True crisis response for domestic hot water (DHW) systems should be a rarity. Most refurbishments for commercial properties are well-planned. Regular annual maintenance ensures consistent operational service and helps avoid appliance failures, but should that occur, backup systems are in place to guarantee demands continue to be met whilst repairs or replacement takes place.
There are however rare occasions when a property is impacted by an event that can have large-scale implications on the building's services which demand a crisis response. In September 2022, Adveco's engineers were called in to assess flood damage to a customer's DHW system. Flooding can be highly destructive to electrical components, so appliances will locate controls and electronics high on a unit to protect operation. In this case, the customer was using three AO Smith BFC 120 fully room-sealed gas-fired condensing high-efficiency storage water heaters operating low-maintenance powered anodes, necessary as the site was in Liverpool where soft water conditions prove aggressive to glass-lined appliances.  More than two meters tall, the BFC could typically survive a certain amount of flood damage.
In this case, the flooding was localised to the plant room. The float valve on the water tank feed booster had failed, jamming open, and causing the tank to overflow. The failure, unfortunately, occurred on the weekend when the office building was shut, leaving water to flood unchecked into the plant room for almost 48 hours. The result was catastrophic, with the basement plant room filling and flooding out into ground-floor corridors.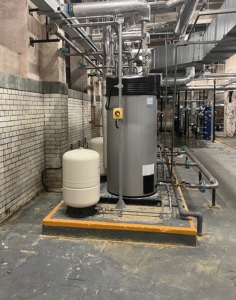 It became rapidly clear that the entire plant room, the BFCs, a full buildings management system (BMS) panel and six 400 kW boilers for the building's space heating would be unrecoverable. With the insurance claim being processed, the customer requested a like-for-like replacement, expressing a desire to retain gas, given the relatively high daily demands for hot water and the lower operational costs compared to an all-electric replacement.
Adveco put an immediate crisis response into place, reassessing the building's DHW demands, and proposing a modernised system designed around Adveco's ADplus water heaters that would improve efficiency, be more resilient to the corrosive nature of soft water, offer greater built-in redundancy and would easily integrate into the buildings BMS system.
Adveco specified three ADplus 115 appliances. These commercial instantaneous water heaters feature high-power gas-fired condensing water heating featuring an integrated 120-litre stainless steel water storage tank for continuous and on-demand hot water (DHW).
With a continuous run of titanium-stabilised stainless-steel construction, the heat exchangers are highly resilient; able to maintain direct contact with chlorinated mains water even in naturally soft water areas, such as Liverpool, where the corrosive nature of mains water can rapidly damage other water heaters. The storage tank is additionally provided with electronic anodic protection.
The patented Fecralloy premix gas burner provides heat, offering a high modulation ratio for excellent functionality at extremely high temperatures whilst also offering maximum efficiency even during periods of low demand. This helps make the ADplus 115 perfect for the needs of this large office building, ADplus heats what is necessary, with no ignition for smaller withdrawals providing considerable energy savings. When heat is required, ADplus boasts high combustion efficiency with condensing technology providing up to 30% savings in fuel consumption. With a consistently balanced air/gas ratio in each point of turndown, the ADplus 115 is not only more cost-effective, it actively reduces harmful NOₓ and CO for ultra-low emissions. The appliances are also 20% hydrogen blend ready, meaning they can burn lower carbon gas blends fed directly from the grid. This is expected to begin rolling out as soon as 2024, and combined with the reduced emissions, the customer has gained a more eco-friendly DHW system.
The ADplus 115 models also feature multiple integrated heat exchangers. This offers load balancing for optimal long-life operation and inbuilt redundancy guaranteeing continuity of service which proved highly attractive to the customer given the circumstances of the refurbishment.
Finally, it was necessary for the replacement appliances to integrate with the property's BMS system. The ADplus units feature an inbuilt controller with LCD display that ensures full temperature control, plus cascade control for the three units and a maintenance self-check of primary components and functions, 0-10 input, MODBUS communication and alarm output for seamless system integration.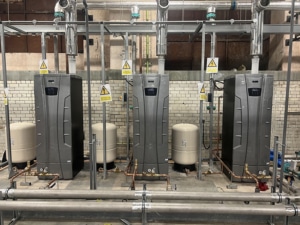 With the insurance resolved, Adveco was able to rapidly supply the ADplus units per the new design for installation. Adveco engineers then returned to the site in the new year to assess the installation and commission the system for safe operation. Despite the unplanned nature of the project, Adveco's swift crisis response allowed the customer to rapidly secured a new, highly efficient replacement that will serve the building well into the late 2030's giving the organisation further options in the future as it considers additional investments in lower carbon and fully sustainable systems for its heating and hot water needs.
https://adveco.co/wp-content/uploads/2023/03/Distaster-Recovery-banner.jpg
321
845
Gary Marshall
https://adveco.co/wp-content/uploads/2023/07/adveco-logo-hot-water-specialists1.png
Gary Marshall
2023-03-09 14:17:34
2023-04-21 10:49:54
Crisis Response – Replacing A Destroyed Hot Water System