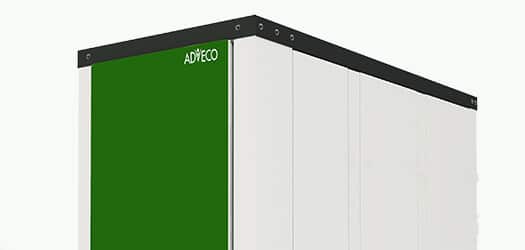 m-CHP and the Future of Cogeneration
In 2015, Adveco embraced the potential of cogeneration and in particular micro-CHP (10, 20 & 25kW) as a carbon-reducing and cost-effective way to generate electric power from gas, whilst reclaiming otherwise wasted heat which could be used to heat water or space and thereby offset costs. Five years ago, the UK grid was still dependant on the burning of fossil fuels to generate a proportion of its electricity, making local cogeneration not only attractive but a considerable help for consultants seeking to reduce carbon emissions to pass Part L for their building.
Today, we are evaluating the relevancy of m-CHP technology for the UK market. The concerted effort to clean the grid has been especially successful, with the removal of coal-burning and the increased input from renewable energy sources. This has dramatically impacted the advantages of micro-CHP, under SAP10 which establishes the acceptable figures for carbon intensity. The recent revisions under SAP10 have shifted m-CHP as a technology, from carbon positive to carbon neutral and, most recently, negated any previous advantages m-CHP units offered in terms of reducing carbon.
The ultra-low emission of NOₓ remains market-leading. We are proud to have raised the issues around its production, which is now being recognised more widely for its potentially deadly and certainly damaging impact on the population's health.
Despite the loss of carbon advantage, M-CHP, with its advanced heat recovery technology still had a valuable contribution to make in terms of reducing OPEX of commercial heating and Domestic Hot Water (DHW) systems, especially given the fuel prices. While electricity costs have risen, gas prices have fallen.
Local initiatives such as the London Plan which is seeing widespread adoption across UK cities and the latest Government drive to address the adoption of sustainable energy within buildings have proven detrimental to several technologies, including CHP.  Larger "dirty" CHP has been rightly targeted by these plans, but this activity has also undeservedly had an impact on the selection process for m-CHP. With the Government's ongoing focus on electricity and heat pumps, we must recognise the significant impact that has on the OPEX of m-CHP.
Looking forward, we have taken the hard decision to suspend the provision of m-CHP within our application designs and will no longer be selling the compact TOTEM m-CHP units. As a business, we will continue to operate the service contracts on the units already installed, and our expertise remains available to consultants who still require CHP for their project.
Single non-micro-CHP units of 50 – 100kW+ remain carbon neutral and savings at this scale can be considerable. As always, Adveco treats its projects as bespoke. The application design and sales teams can advise on best options and, where needed, be able to support the supply of CHP units from 20kW up with full manufacturer grade engineering and warranty support.
In absence of m-CHP in our product portfolio, we will default to hybrid gas or electric systems that leverage the high-efficiency advantages of Air Source Heat Pumps (ASHP). We will expand our offering with new appliances in the FPi range and have introduced the new L70 ASHP for larger-scale commercial applications.
Despite mixed messages to the commercial sector, the Government has confirmed additional investment in the development of hydrogen as a route to decarbonising the gas supply in the UK. Expectations are for an initial rollout of a hydrogen/natural gas blend by the middle of this decade with national expansion and purer hydrogen blends to begin from 2030 through to 2050. Under such an energy supply model, the opportunities for gas-powered m-CHP again look favourable. Adveco will continue to dedicate itself to identifying and supporting the provision of hydrogen ready m-CHP at such a time that the gas supply infrastructure and quality of the appliance make the reintroduction of the technology meaningful for our customers.
---

Discuss your next project with Adveco whether it's a hydrogen-ready CHP or commercial Air Source Heat Pumps (ASHP).
Call Adveco today on 01252 551 540
https://adveco.co/wp-content/uploads/2021/05/CHP-banner-525x250-1.jpg
250
525
Gary Marshall
https://adveco.co/wp-content/uploads/2023/07/adveco-logo-hot-water-specialists1.png
Gary Marshall
2021-05-27 08:30:51
2022-03-23 12:59:35
m-CHP and the Future of Cogeneration