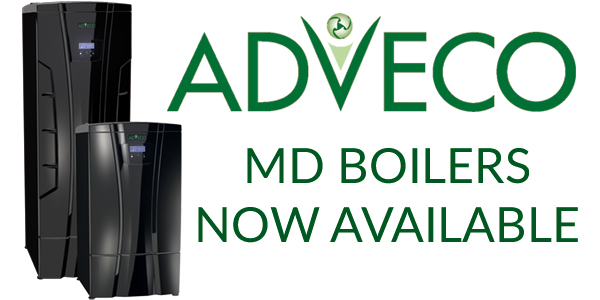 The Adveco MD range – Now available!
Adveco Ltd. presents the new MD range of high capacity condensing boilers
Adveco Ltd. is pleased to announce the launch of the MD range of high-efficiency condensing gas boilers, further expanding the company's heating product range with higher capacity floor standing central heating appliances for the UK, Netherlands, and Belgium markets. Developed by a well-respected European manufacturer with over 50 years of experience in boiler production, and manufactured to the highest-quality standards, the MD provides a very efficient and low emission heating solution for large applications.
The MD range includes four models with heat outputs ranging from 70 to 280 kW with inbuilt controls for cascade. Utilising the modular boiler concept, the MD range has multiple wall hung style heat exchangers mounted vertically within a floor standing chassis. This gives the advantage of low water content heat engines and inbuilt redundancy without the need for expensive framework to convert wall hung boilers to floor standing. The vertical arrangement also reduces the space required for the installation. With a cascade of four (out of a possible eight) units, the MD range can provide over 1100 kW while occupying minimal floor space, including clearance for maintenance, while also providing a turn down as low as 14 kW and 94% redundancy in case of failure.
Each boiler features multiple high-quality heat exchangers constructed from a continuous, non-welded run of titanium-stabilised stainless steel which offers improved strength and corrosion resistance. The patented design features a large bore, 3-pass arrangement with circular, not flattened, cross-section tubes to reduce the collection of debris. Each heat exchanger incorporates a control board that allows communication and load balancing across adjacent exchangers, meaning that the MD not only provides in-built redundancy due to multiple heat exchangers, but also offers improved reliability and longevity as all internal components receive uniform wear.
The units additionally feature an efficient pre-mix burner which also contributes to achieving low NOX and CO emissions, making the MD range an eco-friendly addition to any project. All units in the range are supplied with an LCD display and an in-built controller that provides a high 1:20 modulation ratio and cascade control for up to 8 units, ensuring that efficiencies are maximised no matter the heating load of the building. The controllers provide full temperature control and an intelligent maintenance self-check of all primary appliance components and functions, as well as 0-10 input, MODBUS communication, and alarm output to assist with BMS integration.
Excellence in design allows the MD range to achieve heating efficiencies up to 107% (net) / 98% (gross), with CO and NOX emissions as low as 20 mg/kWh. The MD offers a heating temperature range of 20 – 80°C and is suitable for use with system pressures between 1 – 10 bar. The units have been designed to be compact and lightweight, and can be installed in a number of configurations to make the most of available plant room floor space.
Adveco Ltd. is the sister company to Adveco (AWP) Ltd., who trade as A.O. Smith Water Heaters in the UK and has over 45 years of experience delivering first-class products and services in the water heating industry, including 10 years supplying complete solar hot water packages. Such experience has led Adveco to understand that the coordination of equipment and its controls can be the most challenging aspect of modern application design. By branching out to provide an increased and complementary product offering, Adveco serve as a single point of supply for fully bespoke and professionally designed heating and hot water solutions, inclusive of controls, ancillaries, and external housings.
Adveco Ltd. additionally employ an in-house team of qualified engineers to offer full after-sales support for all products, including maintenance and spares, technical support, commissioning, and a range of service contracts to ensure lasting system performance and return on investment.
https://adveco.co/wp-content/uploads/2017/11/Adveco-MD-range-1.jpg
300
600
administrator
https://adveco.co/wp-content/uploads/2023/07/adveco-logo-hot-water-specialists1.png
administrator
2018-04-16 11:33:47
2021-03-11 14:54:06
The Adveco MD range – Now available!