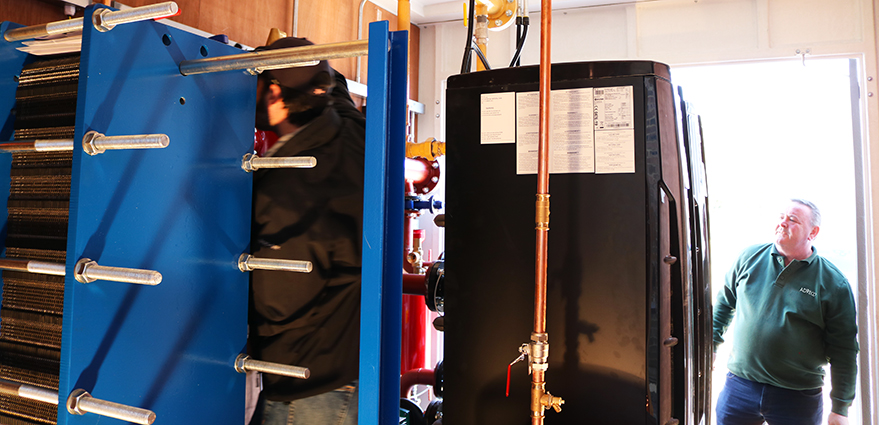 Packaged Plant Rooms – A New Paradigm for Site Safety
Adveco discusses how off-site construction techniques for commercial heating and hot water can alleviate pressures of cost and timescale on construction sites whilst also helping improve Covid-19 safety precautions…
There is no doubt that we are going to face long term changes in the way construction projects operate during and in the wake of the current Covid-19 pandemic. Worksites are already having to adhere to stricter policy on where and when workers can traverse and engage on-site, and, in accordance with Government recommendations, the responsibility for their safety lies squarely on the shoulders of the host – not only for incumbent staff but also for any visiting contractors or customers. Ultimately this is all to ensure anyone on site does not become compromised. This means further stretching the usually difficult, and therefore costly, co-ordination of equipment and controls installations required for a building. Such complexity is typical, for instance, when creating and installing modern heating and
commercial hot water
applications.
New world, new approach
Adopting
offsite pre-fabrication
as part of your project is therefore highly advantageous, reducing time on site required of specialist contractors, which is both more cost-effective and safer for all involved. Adveco combines deep engineering understanding with a wide prod­uct offering and experience in full system design to provide a single source of supply for the delivery of complete
packaged plant rooms
containing
heating
and hot water systems tailored precisely to fit the specific needs of a project. All work is carried out in a controlled, purpose-made environment. This means should there be any forced downtime on-site due to a local lockdown, the assembly work at Adveco will continue as planned. With no distractions from other typical construction site activities or issue we can ensure your plant room work is more rapidly progressed and, with a controlled factory environment, optimal manufacturing conditions are provided for quality control. Unlike the general conditions found on a construction site. Locating all production work offsite also means the plant room element of a project can also efficiently progress at the same time as other groundworks or site installations. As the plant room arrives with all appliances, controls and ancillaries pre-fitted and connected – using stainless steel (heating) or copper (DHW) crimp pipework – as standard, there is no need for extended plumbing and electrical installation. This helps drastically reduce on-site labour demands and allows for more rapid progression of project timescales, despite social distancing requirements. To achieve the best results, you will need to finalise facets of decision-making relating to hot water, heating or cogeneration of power early on in the project to allow for increased lead-in times. Once production commences it becomes more difficult to accommodate changes to a bespoke pre-fabricated system. This is why Adveco's expert design engineers will work closely from the start with your project team to accurately size and design a system that meets the exact needs of the project on day of delivery.  All that is required is for flues, external pipework and final electrical connections to be completed on-site. Adveco has broad experience of developing small to very large
packaged plant rooms
, embracing a wide range of cost-effective to operate and renewable technologies, from high-efficiency gas and electric boilers and water heaters to
heat recovery units
, micro CHP,
solar thermal
and
Air Source Heat Pumps (ASHPs)
. These are all brought together to deliver a wide range of bespoke applications that can transform the operational nature of a commercial property, reducing emissions and improving the efficiency of hot water and heating for lower ongoing costs. The fact that these systems can also be delivered in a manner that is also much safer for all involved on-site shows the tremendous advantages to be gained from this approach. Discover more about Adveco's
Packaged Plant Rooms
---

Adveco are experts in hot water systems for commercial projects, including schools, hospitality and the retail sectors. For all your pre-fabricated packaged plant room projects, call the team on
01252 551 540
or complete the
contact form
.
https://adveco.co/wp-content/uploads/2020/07/PPR-Clayton-hotel-web2.jpg
425
879
Gary Marshall
https://adveco.co/wp-content/uploads/2023/07/adveco-logo-hot-water-specialists1.png
Gary Marshall
2020-07-02 08:23:03
2023-09-04 11:46:07
Packaged Plant Rooms – A New Paradigm for Site Safety