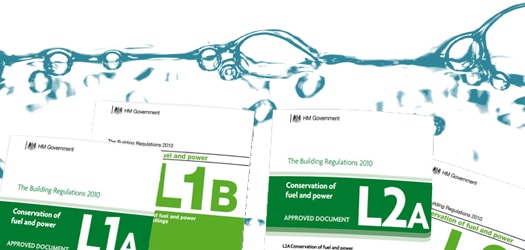 Part L – New Building Regulations For Commercial Hot Water
Introducing changes to Part L of the Building Regulations (Conservation of fuel and power) for England represents a commitment to raising the energy performance of buildings to provide a pathway to highly efficient non-domestic buildings which are zero carbon ready, better for the environment and fit for the future. Although due to be formally released in 2025, the first of a number of interim measures come into force this month.
Whilst the new regulations will have a profound impact on new-build projects, refurbishment works are likely to be initially affected by the introduction on June 15th of new restrictions on the specifying of poor-efficiency direct-gas fired water heaters. Under Part L, new regulations for hot water systems essentially end like-for-like replacement for non-condensing water heaters by imposing new minimum efficiencies (91% for natural gas and 92% for LPG).
Each new fixed building service, whether in a new or existing building, must meet the legislated values set out for efficiency. Replacement fixed services must be at least as efficient, either using the same or a different fuel as the service being replaced with matching or preferably better seasonal efficiency.
If moving over to a new fuel system, such as oil or LPG to natural gas, it should not produce more CO₂ emissions nor more primary energy per kWh of heat than the appliance being replaced. If ageing renewables such as wind or solar are being replaced the electrical output must be at least that of the original installation, except where it can be demonstrated that a smaller system would be more appropriate or effective. And if work extends or provides new fixed building services energy meters will need to be installed.
When specifying a DHW system, sizing should be based on the anticipated demand of the building (based on BS EN 12831-3). The regulations demand systems not be "significantly oversized," but we would argue any oversizing will have a negative impact on the efficiency and operational costs of a DHW system. So accurate sizing is critical in terms of delivering an optimal thermal efficiency assessment. That assessment will include the heat generator and any integral storage vessel, but will exclude all secondary pipework, fans, pumps, diverter valves, solenoids, actuator and supplementary storage vessels from the calculations.
As a guide the minimum thermal efficiencies for natural gas-based DHW systems, based on gross seasonal efficiency of the heat generator are:
91% –                                 Direct fired for new building with >30kW output*
91% –                                 Direct fired for new building with <30kW output*
91% –                                 Boiler efficiency for indirect-fired systems in new & existing buildings
100% assumed                Electrically heated new & existing buildings
* Product standard BS EN 15502-2-1:2012 for gas-fired boilers and appliances of a nominal heat input not exceeding 1000 kW / BS EN 89 gas-fired storage water heaters for the production of DHW
Adveco carries of range of stainless steel direct-fired condensing water heaters, the AD and new ADplus ranges, and MD boiler range, which all leverage advanced burner control to drive efficiency as high as 106%. Plus glass-lined condensing water heaters such as the AO Smith BFC Cyclone (97% efficient) and Innovo (98% efficient) provide a range of choices that already exceed the latest regulations under Part L and provides a safety net should regulations tighten in the future.
As with the broader regulations relating to space heating, controls form a necessary element of the new Part L regulations for combustion heated DHW systems. These all must incorporate a time control (independent of space heating circuits) and an electronic temperature control.
Additionally, regulations call for fully pumped circulation where compatible with the heat generator for primary hot water circuits. Automatic thermostatic control to shut off the burner/primary heat supply when the desired water temperature is reached, and primary flow if the system temperature is too high for all direct-fired circulator systems, direct-fired storage systems and indirect-fired systems. Direct-fired continuous flow systems should include a heat exchanger flow sensor to control outlet temperatures and detect insufficient flow with burner/heat input shut off. A high limit thermostat is also required to shut off the primary flow if the system temperature is too high.
Point-of-use, local and centralised domestic hot water systems should have automatic thermostatic control to interrupt the electrical supply when the setpoint storage temperature is reached or the system temperature gets too high. If there is an over-temperature trip manual reset should be possible.
Local and centralised DHW systems should have both a 7-day time control and the facility to boost the temperature by using an immersion heater in the cylinder.
Instantaneous water heaters should include a flow sensor to control the rate of flow through the heat exchanger. If the sensor detects insufficient flow, it should shut off the electrical input. Plus, a high limit thermostat is required to shut off the primary flow if the system temperature is too high.
Alongside gas, solar thermal is likely to be applied in the notional building unless heat pumps meet 100% of the actual building's demand. Solar has been used in calculations in the past to overcome the poor fabric performance of a building. But, given the broad majority of heat pumps are currently used for preheat on commercial DHW applications, at most offsetting 70% of the energy demanded, solar thermal has a valid role to play and it's a proven sustainable technology. Our expectations are for commercial DHW systems to continue in a familiar manner for the near to mid-term, with gas appliances used to provide cost-effective supply, especially during grid peak hours. Heat pumps and/or solar thermal will be deployed to provide preheat to that system.  As efficiencies improve and higher water temperature (more than 60°C) are achieved through heat pumps we see gas appliances slowly being phased out unless they can be replaced with green gas (hydrogen) alternatives. This naturally leads to the provisioning of hybrid systems for the coming decade, optimising a mix of current technologies that address the latest regulations, reduce emissions and crucially deliver value for money with lower operational costs.
These measures are designed to enforce a move away from fossil fuels to low carbon technology for heating and domestic hot water (DHW) and set a more rapid timeline. There is no doubt these new measures will ultimately represent a seismic shift in thinking when it comes to commercial hot water and heating applications, but a cushion has been built in to allow for the development of systems that are necessarily more complex than would be seen in domestic settings. This brings considerable opportunities for developers and specifiers willing to consider both existing and new technologies in order to deliver compliant applications in the next five years.
Whilst a fabric first approach is encouraged, low carbon technologies are being emphasised. This ultimately means heat pumps for the broad majority of DHW applications where there is a low heat demand. For commercial properties where there is typically a high heat demand gas is still allowed while the industry works to develop suitable alternatives.
One final observation on the implication for the specification and installation of commercial DHW relates to completion requirements. Part L tightens the commissioning requirements to reduce the gaps in performance over design and is intended to deliver improved project handover with accurate energy usage predictions. As a result, we can expect to see revisions of commissioning processes across the industry to help streamline delivery and speed up handover, crucial if government roll-out targets for low carbon technologies to achieve Net Zero by 2050 are to be met and superseded by commercial organisations.
Regulation changes take effect on 15 June 2022 for use in England. It does not apply to work subject to a building notice, full plans application or initial notice submitted before that date, provided the work for each building is started before 15 June 2023. Regulation changes do not currently apply to Wales, Scotland or Northern Ireland. 
---

If you'd like to discuss further our options for commercial hot water systems, speak with Adveco today.
Call us on 01252 551 540 or via our contact form.
https://adveco.co/wp-content/uploads/2021/07/Building-Regs-blog-banner.jpg
250
525
Gary Marshall
https://adveco.co/wp-content/uploads/2023/07/adveco-logo-hot-water-specialists1.png
Gary Marshall
2022-06-09 09:40:32
2023-01-16 14:45:13
Part L – New Building Regulations For Commercial Hot Water