Adveco's growing range of renewable energy products is designed to provide heating and hot water as part of eco-friendly hybrid commercial systems that reduce CO₂ emissions, supporting the drive towards Net Zero in the UK.
The TOTEM micro-cogenerator is the first in a new generation of high efficiency, low emissions CHP. Designed and manufactured by Totem-Energy, it incorporates decades of automotive expertise in the form of a 1.4 litre Fiat Fire engine sourced from Fiat Chryster Automobiles and an Engine Control Unit tuned by Magneti Marelli. The result is a compact and reliable combined heat and power unit with the highest efficiency and lowest emissions available on the U.K. market.
The process of cogeneration within the TOTEM begins with the natural-gas fed automotive engine, which is directly coupled to a generator to produce electricity.  The engine is controlled by a finely tuned engine control unit (ECU), which communicates via gateway to the unit display and remote cloud interface for advanced monitoring and controls.
The heat produced as a product of power generation is captured through a series of internal heat exchangers.  Building water enters the unit through a shell and tube heat exchanger to extract heat from the exhaust gases after the catalytic converter, then passes into a plate heat exchanger to draw high-grade heat from the engine coolant before leaving the unit and feeding into the building's heating or hot water system.
The engine coolant draws heat from the electric generator, a pre-catalytic converter exhaust shell and tube heat exchanger, and a plate heat exchanger connected to the engine oil.
Engine
TOTEM internal combustion engines are specifically designed to run on natural gas.  They are controlled with automotive engine control units with high efficiency catalytic converters which give ultra low NOX and CO emissions under 10 mg/Nm3.
The TOTEM delivers the lowest emissions available from any reciprocating engine CHP, and lower NOX emissions than a condensing gas boiler.
High Efficiency Heat Exchange
Maximum thermal efficiency is achieved by reclaiming heat from every available source.  The building's central heating water is heated directly in two stainless steel shell and tube heat exchangers and a water to water stainless steel plate heat exchanger to transfer heat from the engine coolant system.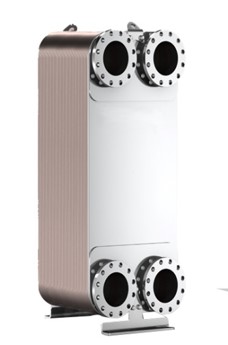 The engine coolant system is used to cool the engine, oil, and generator water jacket.  This level of heat exchange gives the TOTEM a thermal efficiency of 65% or higher depending on the return water temperature.
The TOTEM will condensate when the return temperature is less than 50°C, without the need for an additional flue heat exchanger.
Advanced Controls
An innovative cloud platform is standard to TOTEM, designed for Smart Buildings and allows remote monitoring of TOTEM performance by any system online (laptop, tablet, or smartphone).  The TOTEM can provide this functionality through either a hard wire network connection or via a WiFi module installed in the unit.
The remote monitoring system can be interrogated for real time information, or set to upload a packet of data every 24 hours detailing the unit performance over the past day.  Faults can automatically create email alerts.
The TOTEM delivers the lowest emissions available from any reciprocating engine CHP, and lower NOX emissions than a condensing gas boiler.