The Adveco L70 is a high capacity air-to-water monobloc heat pump designed to provide high temperature hybrid domestic hot water (DHW) and heating.
Rated 70kW for typical UK operation at 5°C but climbing to a maximum 90 kW from a single compact unit, the L70 is perfect for large scale commercial applications and can operate as part of a cascade installation for projects demanding greater capacity.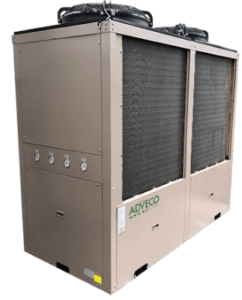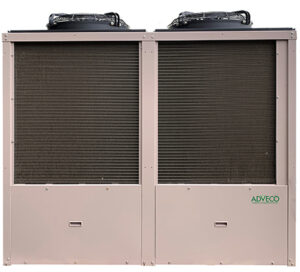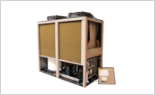 Features & Key Technologies
Designed for the UK Climate
The L70 has undergone a full environmental assessment to ensure optimum efficiency is delivered across the UK's varied seasonal climate.
Operating within the Average European Temperature Zone established under Ecodesign (lowest reference design temperature of -10°C) the L70's seasonal coefficient of performance (SCOP) is a highly efficient 3.39 (measured at 35°C flow temperature). For Southern & Western regions of the UK which match the Ecodesign Warmer Temperature Zone (lowest reference design temperature of 2°C) efficiencies improve with a SCOP of up to 4.08.
Cut CO₂ Emissions from Hot Water & Heating
Using an evaporator and internal compressor to extract usable heat from the air, the Adveco L70 transfers energy through a refrigerant circuit into a building as a low carbon source of DHW and heating, minimising environmental impact and increasing overall energy efficiency.
The L70 can deliver flow temperatures up to 60°C, providing 55°C preheat for hybrid applications that combine buffer vessels with plate heat exchangers, calorifiers, gas-fired boilers or direct-electric water heating to provide essential additional heat to meet year-round commercial requirements.
The L70 will dramatically lower CO₂ when analysed using the carbon intensity figures from the new SAP10. Compared to gas systems, the carbon emissions are reduced by around 70% when using the L70's seasonal coefficient of performance (SCOP) of 3.47 (measured at 55°C flow temperature for the Ecodesign warm European temperature zone with a reference design temperature of 2°C).
Technical Specifications & Downloads

Adveco Ltd. is the independent hot water specialist for the commercial built environment and has historically traded as A.O. Smith Water Heaters in the UK.

Highest quality products and services
We prioritise our clients' needs to deliver bespoke, practical systems.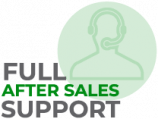 Maintenance and service packages, commissioning, spares, warranty and technical support for your application.