Overheating and air pockets can lead to costly and potentially damaging malfunctions in solar thermal systems. Overheated glycol fluid in the collector and pipework can quickly render systems completely inoperable and, in worst case scenarios, can require a complete system replacement.  
Adveco Drain Back counters these problems, as well as issues relating to high system pressure, dirty pumps and non-return valves, plus corrosion from acidic heat transfer medium all resulting from very high temperatures seen in modern solar thermal systems. 
A simple gravity-driven process within the compact module Drain Back module ensures trouble free operation and system longevity for improved returns on investment in renewables for water heating in commercial buildings.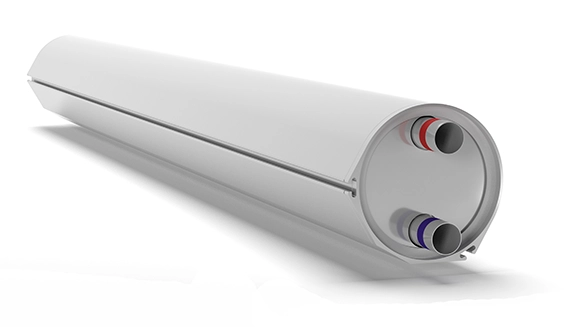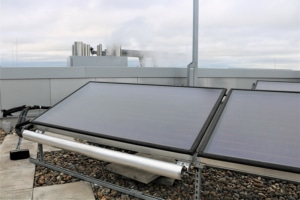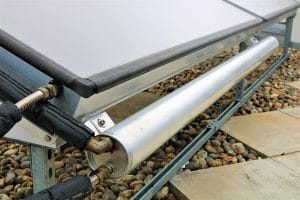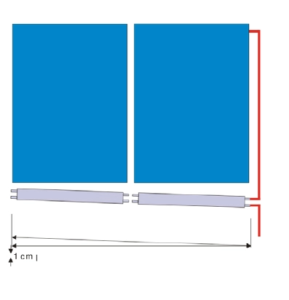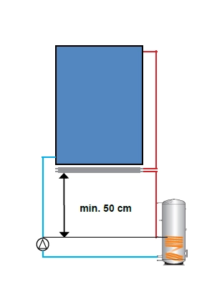 Features & Key Technologies
Adveco Drainback Systems – For Long-lasting, Low-Maintenance Renewables
As with any technology, issues can arise if a commercial system is poorly designed or maintained. In terms of solar thermal systems, the results can vary from frustrating to catastrophic and can prove to be extremely costly.
By far the greater concern is the stagnation of the solar fluid as a result of high-temperature build-up within the collectors when a system is not operating. solar thermal collectors or panels utilise the sun's energy to heat a water & glycol mix in the panel. This solar fluid is then pumped to a heat exchanger inside a water cylinder.
If a solar thermal system has no overheat protection the fluid can change to the consistency of tar. The 'tar' can rapidly develop as a film, and within a multiple collector system, it is likely that some of these will become blocked and will not be able to be cleared out causing permanent damage and resulting in very high repair costs. We have seen this issue develop in systems a matter of weeks after initial installation!
Overheat protection is therefore vitally important and will typically require the addition of a large solar storage or buffer vessel to dump unwanted heat to stop the system from stagnating. Together with the heat dump system starting in the middle of the day due to a short period of low demand, the Solar Thermal application could be extremely inefficient.
At Adveco, we are proponents of systems that deploy drain back, which as the name implies drains the solar fluid from the collector to a reservoir when not in use, allowing for a system to be safely off.
A drain back vessel located in the plant room is one option, that will also allow for pipework fluid, but will require greater head pumps.
With Adveco's drain back module, installed on the flat plate collector commercial buildings with high demands can deploy a large number of collectors with a small tank and still provide high-temperature water with the knowledge that in times of low use high-temperature build-up in collectors is impossible. This ensures the system remains protected.
As there is no requirement for the installation of large solar storage, this approach is far more cost-effective and more efficient as there is no call to dump unused heat.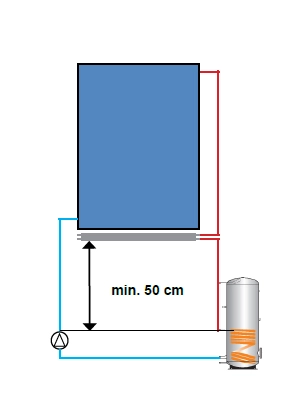 Example Adveco Drain Back & Flat Plate Collector Installation 
Adveco Solar Thermal Flat Plate Collectors To Reduce Energy Demands,
Costs & Carbon Emissions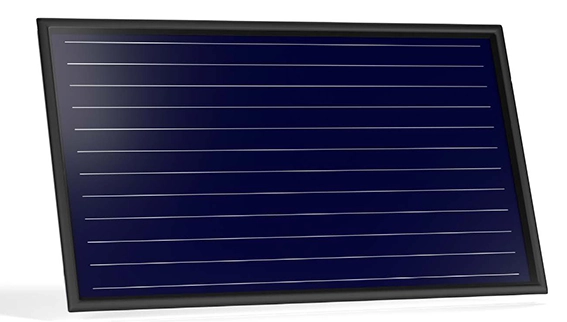 Adveco Ltd. is the independent hot water specialist for the commercial built environment and has historically traded as A.O. Smith Water Heaters in the UK.

Highest quality products and services
We prioritise our clients' needs to deliver bespoke, practical systems.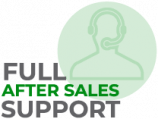 Maintenance and service packages, commissioning, spares, warranty and technical support for your application.