Creating a modern, efficient, cost-effective, and sustainable hot water and heating system is not just advantageous, it is increasingly becoming a demand as the United Kingdom transitions towards a more environmentally friendly Net-Zero nation by 2050.
This process of modernisation is not necessarily straightforward for some sites. They may be limited in terms of existing plant room space, or in the case of much older buildings, have no dedicated plant room space at all. Other sites may face limitations in terms of when work can actually be carried out on site. If a works window is especially narrow it can preclude larger scale project work.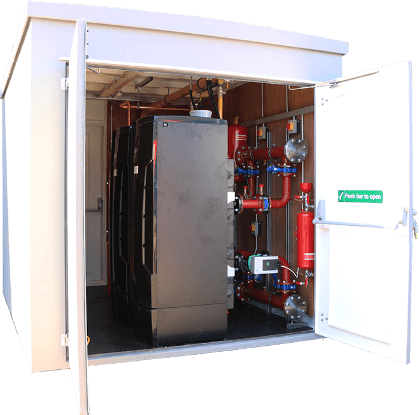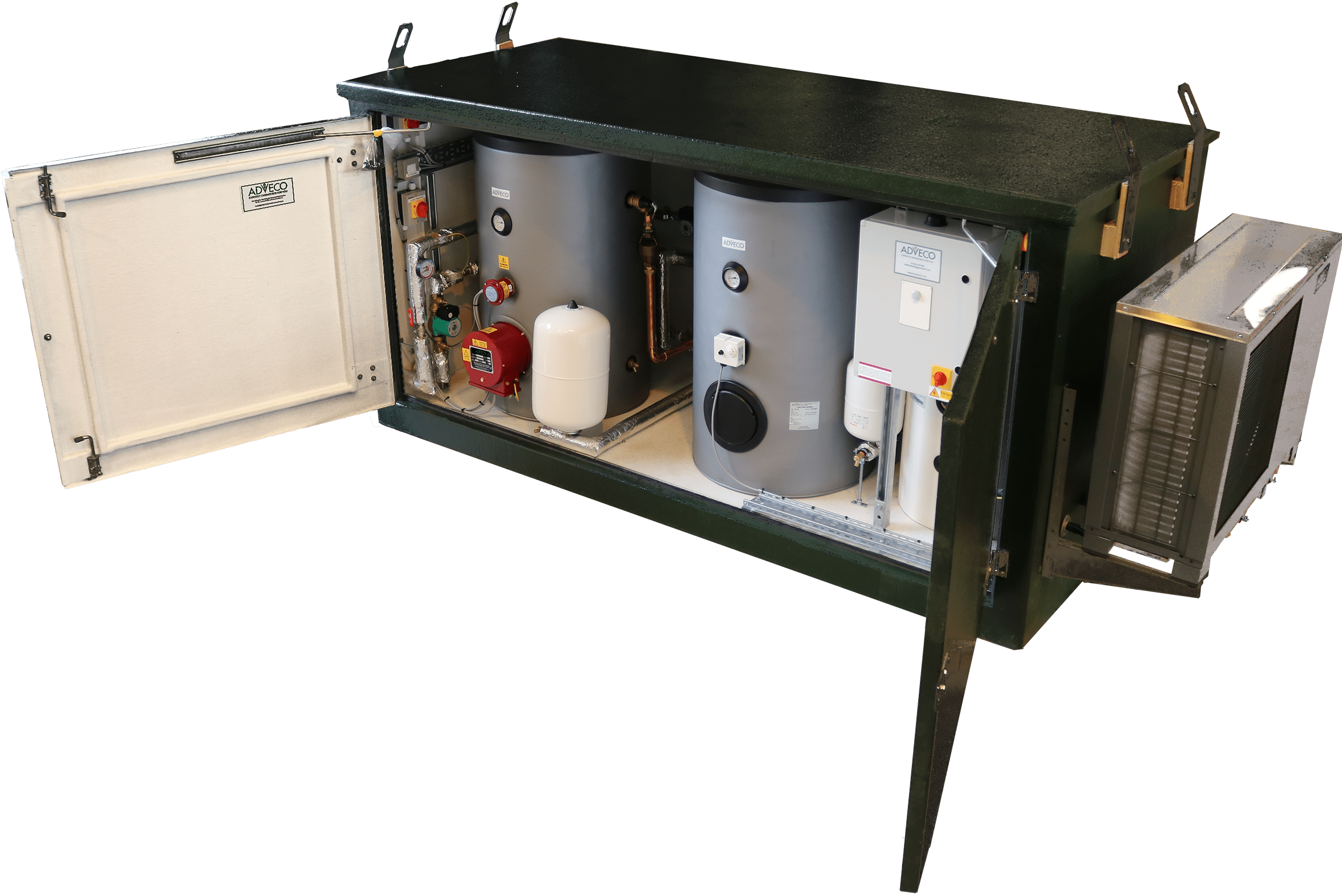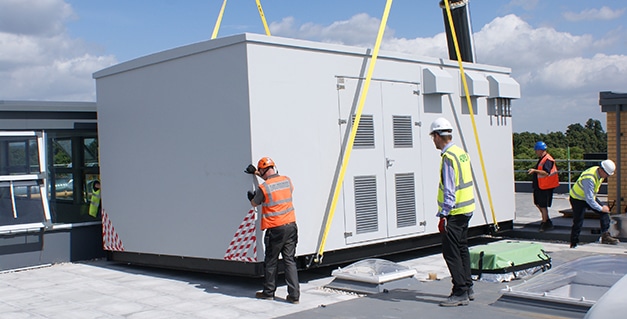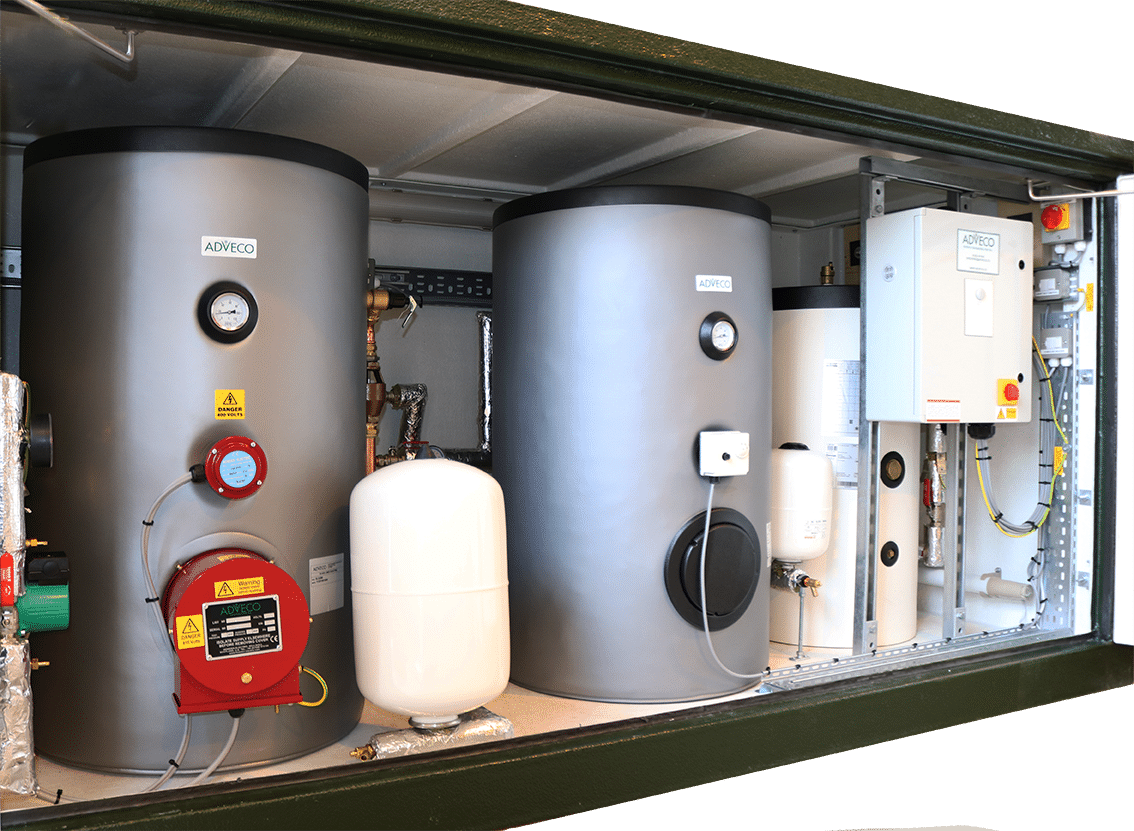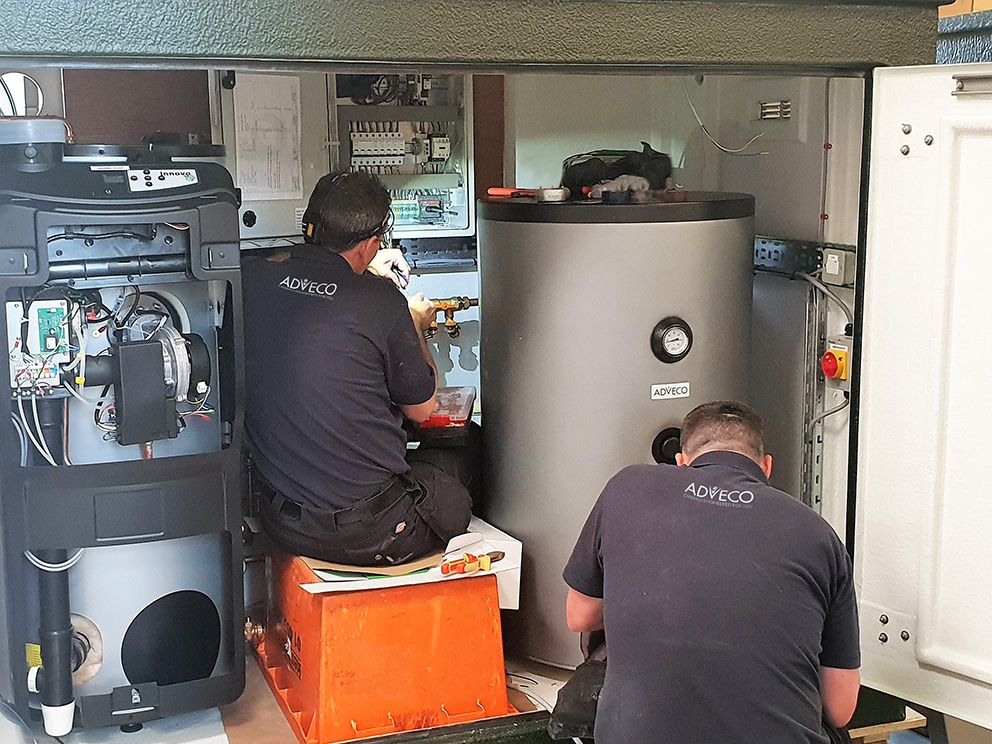 Features & Key Technologies

Relocate essential services and maximise space
- Increase teaching spaces in schools, add rooms to a hotel or extend workspaces. By relocating essential building services into an external packaged plant room, valuable internal areas can be released. Adveco will size, design, and manufacture weatherproof GRP enclosures suitable for placement beside or on a building's flat roof.

Protect project timescales
- Locating all production work offsite means the plant room element of a project can progress at the same time as other groundworks or site installations. Should there be forced downtime on-site, as faced during the pandemic, assembly work at Adveco will continue as planned. The entire system is delivered in single, robust GRP housing.

Improve quality and speed of work
- With a controlled, purpose-made factory environment and deep product knowledge, Adveco's offsite construction facilities provide enhanced quality control with manufacturer assured standards. Without distractions from other typical construction site activities, we can ensure your plant room work is more rapidly progressed.

Control and protect on-site labour
- As the plant room arrives with all appliances, controls and ancillaries pre-fitted and connected – using stainless steel (heating) or copper (Domestic Hot Water) crimp pipework as standard – there is no need for extended plumbing and electrical installation by specialist contractors which is both cost-effective and, safer for all working on site.
Adveco combines deep engineering understanding, with a wide product offering and experience in full system design, to provide a single source of supply for the delivery of complete Packaged Plant Rooms containing heating and hot water systems tailored precisely to fit the specific needs of a project.
Working with Adveco helps you achieve timely project delivery through proper coordination of application design, securing of equipment and controls and post-installation commissioning works.
Improve the sustainability of your building – Combine the latest in commercial ASHP technology from Adveco with high-efficiency indirect and direct electric water heaters to provide reliable high-temperature water for a truly sustainable application. The ASHP can generate the system preheat up to 55°C, supplying as much as 70% of the DHW load.
Cut operational costs – Greater efficiency appliances actively help reduce operational costs. Or by offsetting with solar thermal or ASHP preheat, Adveco can lower energy demands by almost 50% compared to similarly configured direct-electric only systems, for excellent savings across the system's operational lifespan.
Reduce your building's energy demands – Adveco offer a range of products that support active reduction of energy demands from your system. From the latest generation of highly efficient condensing gas boiler and water heater technology, including the Adveco MD and AD ranges that utilise pre-mix burners to achieve market-defining combustion efficiencies of up to 106%, through to electric water heaters and Air Source Heat Pumps (ASHPs).
Control your CO, CO2 and NOx emissions – An ASHP based pre-heat configuration, as used in the Adveco Packaged e-Hot Water System, can demonstrate a 47% reduction in CO2 emissions for the same output of 500,000 litres of hot water each year when compared with a similar direct electric-only system. Adveco's MD boiler and AD water heater ranges offer market-leading efficiency, for some of the lowest emissions for their category.
Low Carbon Packaged e32-Hot Water System
The Adveco Packaged e32-Hot Water System leverages all the advantages of off-site construction to provide a standardised, resilient, environmentally friendly, low carbon, hot water system pre-sized to help reduce both a building's energy consumption and operational costs across its lifetime.
This prefabricated all-electric water heating system brings together Adveco's FPi32-9 Air Source Heat Pump (ASHP), 200L GLC indirect preheat tank and 200L GLE direct electric water heater to provide reliable high-temperature water in a convenient, packaged system housed in a compact GRP housing.
Sized to meet the typical needs of a larger facility and can supply 314 l/peak hour. Based on a 12-hour daily operation and one peak hour, this equates to 1370 litres of hot water per day. Adveco's Packaged E32-Hot Water System makes particular use of the FPi32-9 ASHP to provide the system preheat from 10°C to 50°C, supplying 70% of the DHW load. Offsetting this energy demand the Packaged e32-Hot Water System can demonstrate a 47% reduction in energy demands and CO² emissions for the same output of 500,000 litres of hot water each year when compared with a similar direct electric-only system. The reduced energy demand also means operational savings can be added to the capital savings secured during the design, supply, and installation phases.
The GLE also has an additional 6kW immersion heater to provide backup in case of failure of the lead heat source for sites where hot water is business-critical. The Adveco designed control system monitors the heat sources, and in the case of failure, it can automatically activate the backup system. A completely new specification that lowers the heat intensity, without detrimental effect to the demands for hot water, means the Packaged e-Hot Water System is also more resistant to scale, reducing maintenance demands.
Adveco's Packaged e32-Hot Water System is ideal for a wide range of commercial properties with regular hot water demands such as restaurants and boutique hotels, offices, schools, and light industry. The system is also perfect for both new builds or refurbishment where space is at a premium. 
Technical Specifications & Downloads

Adveco Ltd. is the independent hot water specialist for the commercial built environment and has historically traded as A.O. Smith Water Heaters in the UK.

Highest quality products and services
We prioritise our clients' needs to deliver bespoke, practical systems.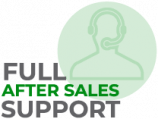 Maintenance and service packages, commissioning, spares, warranty and technical support for your application.