Low Carbon Renewable Products for Schools & Academy Trusts
Design, Supply and Support for Hot Water and Heating for Schools & Academy Trusts
Live Metering – The most cost-effective and efficient path to sustainability for your school's future.
If you need assistance with a system for your school or nursery, then Adveco's Live Metering service is for you. Live Metering requires an Adveco engineer to visit your site and install a water meter to provide hot water temperature monitoring for verified water data and comment on the risk of the existing system.
Adveco will return within the month to collect the meter. During these visits we can confirm space and clearances, and installation suitability, and once we have analysed the data give a truly accurate sizing and emissions/costs calculation.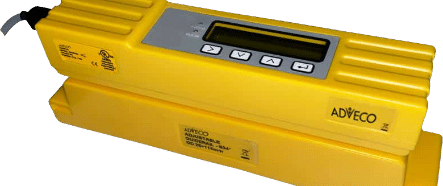 Adveco can then advise on a new hot water system which meets the demands of a building while increasing efficiency, lowering carbon emissions, and managing costs.
Heat Pumps for Schools & Academy Trusts
Air Source Heat Pumps: The Adveco FPi32 range of 6, 9, and 12 kW Air Source Heat Pumps (ASHP). A more environmentally friendly method for commercial sites to achieve lower cost water heating or cooling.
Consisting of three variants, the FPi32-6, FPi32-9, and FPi32-12, the range provides excellent levels of performance, especially throughout the UK's relatively mild winters. With sleek looks and quiet operation, the compact monobloc design is capable of providing hot water (DHW) at up to 55°C, or cool water to -7°C for use in fan coils.
A proven method for reducing carbon emissions across a commercial site, the FPi32 absorbs heat from the air via the new R-32 refrigerant circuit. Less damaging to the environment, with zero impact on the ozone layer and requiring a kilo less refrigerant to operate, the FPi32 ASHP range demonstrates just 20% of the Global Warming Potential (GWP) of its predecessor.
Solar Thermal for Schools & Academy Trusts
Faced with an increasing expectation to become more actively sustainable, as well as the need to mitigate rising energy costs, now is a good time for education estates to reconsider the integration of a solar thermal system as part of their premises. Not only a proven and extremely reliable technology, for the past 15 years solar thermal has offered a clear path to reducing CO₂ emissions for schools that rely on large amounts of hot water.
Solar Thermal provides an effective way to offset the new financial burden that comes from moving from cheap gas to currently far more expensive electricity. A ten-year return on investment becomes very achievable, and, with zero emissions, the undisputed carbon and cost savings make this technology increasingly more viable. Solar has always been used as a preheat with coldest water possible to maximise the efficiency and output: this gives maximum free heat with no carbon emissions. But there is a good case now for using solar thermal with heat pumps and electric if set up as a mid-heating system which can lower both carbon and cost.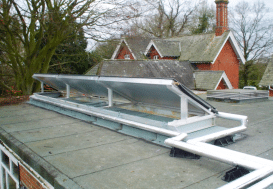 School project – drainback solar thermal collector panel on frame mount for flat roof space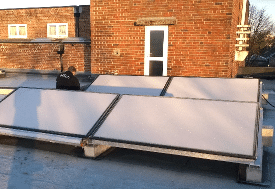 Adveco drain back solar thermal collectors installed on school roof
Heat Recovery for Schools & Academy Trusts
Schools with commercial scale refrigeration for onsite catering provide a perfect opportunity for recovering and using heat that would otherwise be wasted. The Adveco HR001 standalone heat recovery box is seamlessly integrated into a water heating installation, capturing heat produced by the chiller or freezer unit and using it to indirectly pre-heat the incoming mains water to temperatures as high as 50°C. Essentially making use of free heat energy, when operating for typically six hours per day, across either gas or electric only systems, heat recovery for installations can average as much as 155 kWh/week per site. This saved energy means less overall power demands and therefore reduced emissions, so a school can not only be seen to be addressing environmental issues but will also be making operational cost savings.
Packaged Plant Rooms for Schools & Academy Trusts
Creating a modern, efficient, cost-effective, and sustainable hot water & heating system is not just advantageous, it is increasingly becoming a demand as the United Kingdom transitions towards a more environmentally friendly Net-Zero nation by 2050. This process of modernisation is not necessarily straightforward for school sites. They may be limited in terms of existing plant room space, or in the case of much older buildings, have no dedicated plant room space at all. Schools also face limitations in terms of when work can actually be carried out on site. If a works window is especially narrow it can preclude larger scale project work. Packaged plant rooms help address all these issues, with construction carried out offsite and hot water or heating delivered as a complete system within a weatherproof structure. Once delivered to the school it can be located in minutes and be connected and fully operational in a matter of days.