Commercial Hot Water & Heating for Bespoke Projects
Bespoke application design, provision and servicing to meet your buildings' demands for hot water & heating
Whatever your business – manufacture, retail, finance, hotel, restaurant, leisure services, professional sports, school, university, hospital, care home or government organisations – it is going to operate buildings that increasingly are being held accountable for the UK's greenhouse gas emissions. Some 17% of these emissions – CO₂ and NOₓ – is directly attributed to the provision of heating and hot water in these buildings. But as business-critical services you cannot simply excise water and heating. Rather there needs to be a smarter approach to meeting your organisation's demands whilst curtailing emissions. That is good for the environment and good for the organisation's reputation, but what if that approach also meant you could dramatically reduce your operational expenses?
New construction and the refurbishment of existing properties is going to become increasingly important as the Government puts more pressure on organisations to achieve net-zero by 2050. That construction work will need to meet the green agenda, and Adveco is expertly positioned to help with meeting the demands for heating and hot water that are efficient, cost-effective to secure and operate, and be seen to be sustainable.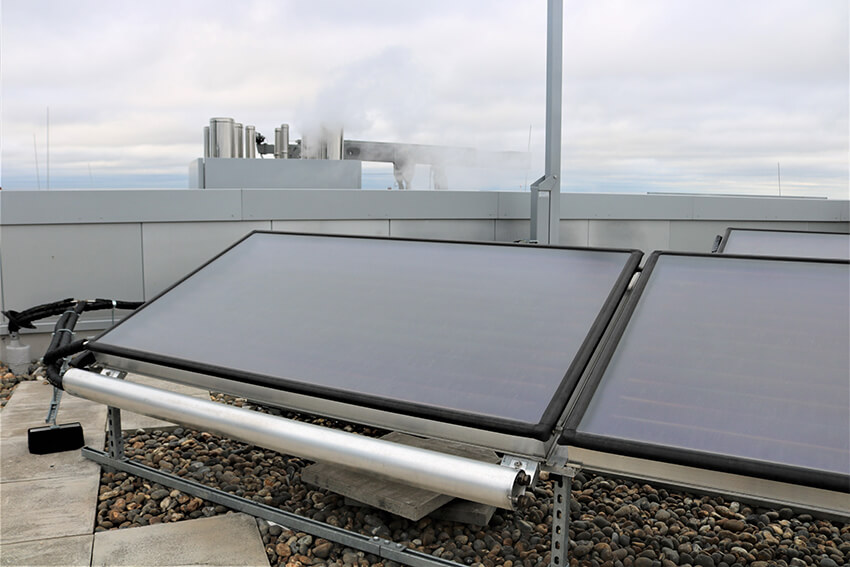 Subscribe now for information & offers
Adveco has been a trusted specialist provider of bespoke hot water, heating and low-carbon systems to the building services industry for 50 years. We operate across the commercial built environment, working with consultants, specifiers and designers. We support contractors with a single, versatile, specialist sales resource, and facility managers gain technical support and warranty service to ensure system longevity and help realise low total cost of ownership.
Looking forward, our commitment to renewable technology continues at pace. Bringing unique products to market that address the increasing demand for sustainability in new builds, while not losing sight of the need to extend and enhance the life of viable systems when refurbishing older building. This approach allows for more a more managed transition for addressing the needs a building whilst still reducing carbon.
Meeting domestic hot water (DHW) demands with commercial gas and electric water heaters, boilers, cylinders, packaged plate heat exchangers and electric immersion kits
Commercial heating support with ranges of floor-standing and wall-hung gas boilers, carbon steel heating buffers and thermal storage
Addressing sustainability through the integration of solar thermal, Air Source Heat Pumps (ASHP) and boxed heat recovery
Smart control systems for increased efficiency and managed transition via hybrid approaches that extend the life of viable systems while addressing the need to reduce carbon
Bringing all these varied elements together is Adveco's packaged plant room offering, a bespoke prefabricated system build that makes full use of vacant space whilst leveraging all the advantages of offsite construction for hybrid and all-electric hot water and heating applications
Introduced sustainable hot water to the 100 Bishopsgate building