Sustainable Hot Water & Heating Products For Higher Education
Design, Supply and Support for Hot Water & Heating for Colleges & Universities. Also available for Schools, Academies & Nurseries.
Adveco Supports:
Sustainability as a core purpose of higher education
The improvement, and better management of living and study spaces
Working together to make sustainability 'front and centre' in the sector through site assessment programmes, bespoke application design and staff training
Driving student engagement in sustainability through exemplar project delivery
Addressing efficiency of hot water and heating systems not only helps higher education meet sustainability goals in a practical and cost effective manner, it also delivers improved conditions for staff and the student body, providing access to better living and study spaces.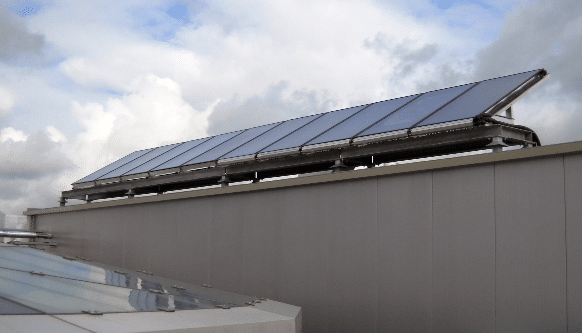 Solar Thermal system supplied by Adveco for Bolton College.
Live Metering – The most cost-effective and efficient path to sustainability for your school's future.
If you need assistance with a system for your school or nursery, then Adveco's Live Metering service is for you. Live Metering requires an Adveco engineer to visit your site and install a water meter to provide hot water temperature monitoring for verified water data and comment on the risk of the existing system.
Adveco will return within the month to collect the meter. During these visits we can confirm space and clearances, and installation suitability, and once we have analysed the data give a truly accurate sizing and emissions/costs calculation.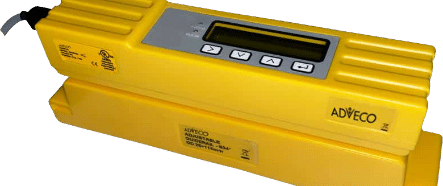 Adveco can then advise on a new hot water system which meets the demands of a building while increasing efficiency, lowering carbon emissions, and managing costs.
Heat Pumps For Colleges & Universities
For new buildings across the campus that are serviced by electricity only, the deployment of air source heat pumps (ASHP) as a method of pre-heating water represent a clear opportunity to introduce low carbon technology to meet sustainability goals.
Heat Pumps For New Higher Education Buildings
For new builds, consultants are already specifying a greater electrical load to account for the additional power demands to support a mixture of heat pumps and direct electric afterheat necessary to meet the higher water temperatures and volume demands exhibited in higher education projects. Due to their relative ease of installation compared to ground source systems, we will focus on Air Source Heat Pumps or ASHPs. New domestic hot water (DHW) systems will predominantly follow this model, taking advantage of heat pump performance efficiencies to create a hybrid approach to deliver pre-heating for as much as 75% of the water in a direct electric system. Able to draw and transfer thermal energy from air, under the right circumstances ASHPs represent an efficient way to significantly reduce the carbon emissions of a building and with no gas to the building, no local generation of NOₓ and no flue to install this clearly has its advantages.
However, with ASHPs offering greater efficiencies in low-temperature systems, the high-temperature demands of DHW for higher education applications can be a challenge. High temperatures need greater compression of the refrigerant, requiring more electrical input which results in lower efficiency or Coefficient of Performance (COP).
When analysing the value of an ASHP in terms of reducing CO₂ emissions the carbon intensity figures from SAP10 should be used and advantage of ASHPs is that their performance is greater than 100% as they extract additional energy from outside of the building's metered systems. This gives significant carbon savings but, when describing the efficiency of an ASHP, working flow water temperatures of 35°C are often cited. It needs to be recognised that this temperature is insufficient for higher education applications. Even if a college or universtiy building has achieved Passivhaus standards, and this remains a rarity, 35°C is not going to be hot enough to safely provide DHW. Achieving 60°C in a calorifier is a basic requirement for a commercial DHW system, but means the working flow temperature from the ASHP would need to be at least 65°C. As well as struggling to achieve these temperatures year-round in the UK, the COP drops very low meaning you lose the value of deploying ASHPs. A calculated working flow of 55°C is certainly attainable from current generation ASHPs and this is why when designing commercial DHW systems it is preferable to use a hybrid approach that uses the ASHP as preheat and combines it with either gas-fired or more preferably electric immersion top up to achieve the required hot water temperature.
Attention also needs to be given to the Ecodesign established European temperature zones when assessing the suitability of a heat pump to serve a building's DHW heating load. For most of the UK the relevant defined temperature zone is 'average', where the annual reference temperature for the ASHP's Seasonal Coefficient of Performance, or SCOP, is -10°C. For some Southern and Western UK regions, the 'warmer' Ecodesign temperature zone can be applied for modelling, where the lowest the reference temperature will only fall to 2°C. These differing temperature regions can have a significant impact on the SCOP therefore it is important to ensuring the values entered into an assessment are both relevant and accurate for the installation. Incidentally, the SCOP of an ASHP is a far better overall gauge of the year-round efficiency as opposed to COP. While COP figures are often cited in technical literature, you must remember that these represent very specific climatic conditions that may only occur for a moment in time.
Commercial DHW applications using heat pumps are going to be complex and, compared to gas-fired alternatives, are going to have higher up-front costs. Designing the system for peak efficiency, and therefore sustainability, is a must to help offset this additional capital investment when compared to traditional gas-fired systems. With 50 years of specialist experience in creating bespoke commercial DHW systems, Adveco is well-positioned to support such projects with a wide range of air source heat pumps, indirect tanks and electric immersions. Under the right circumstances, such as new builds with a high degree of insulation, ASHPs represent an efficient way to significantly reduce the carbon emissions of higher education buildings. As the cost of grid electricity closes on that of gas, ongoing savings garnered from operating a hybrid ASHP based system, plus the reduction in CO₂ emissions makes the technology a truly attractive prospect for the latest building projects on higher education campus. New innovations in heat pump technology and refrigerants this coming year will further enhance the advantages of the technology cementing it position as a truly viable alternative for the provision of commercial-grade hot water.
Solar Thermal for Colleges & Universities
A proven and extremely reliable technology, solar thermal offers a clear path to reducing CO₂ emissions.
Correctly designed and sized to the application, such as student accommodation, solar thermal systems can generate a considerable proportion of the hot water requirements for buildings that are already on-gas with relatively short payback periods on the initial capital expenditure, while leveraging lower-cost gas to meet peak demands.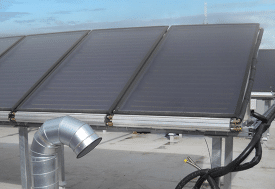 Solar Thermal system is supplied by Adveco for Bolton College.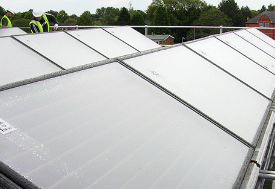 Manchester University – solar thermal collectors being installed
Solar Thermal For Refurbishing University Accommodations
Student accommodation will typically use paired condensing gas water heaters sized to supply up to 100% of hot water demand to ensure consistent hot water availability throughout the year. The addition of solar thermal preheat on the cold feed reduces the need to fully employ the gas water heaters, reducing energy demands, costs and emissions. Solar Thermal alone will not provide for the entire hot water demand of a building, but, because of the staggered timing of lectures, student preheat storage demands can typically be shortened to three or four hours. As a result, systems employing solar thermal can be extremely effective, ideally allowing for approximately 20% solar fraction, or the percentage of the total thermal load satisfied by solar energy, thus reducing reliance on the gas boiler.
In general terms each room within the application design will require 0.5 m² aperture, which is the area over which the solar radiation enters the collector. For flat plate collectors the gross area and the aperture will be the same, with Adveco collectors each measuring 2.24 m².
A typical preheat system with 1500-3000L storage will employ 12-24 panels and be able to service the demands of buildings from 50 up to just 115 over student residents. Town house systems will usually be based around a much small 300L twin-coil water heater with three to four panels supporting up to 12 students. These basic calculations assume accommodations will provide 25m² of personal living space, with ensuite and shared kitchen facilities.
However, accurately sizing the solar thermal system becomes decidedly more complex in the real world which is why leveraging Adveco's application design specialists is especially valuable when assessing the demands and limitations of a building. For instance, flat roofs will find up to 25% of the total space available for solar panels will be limited by the allowance for access and prevention of shade which would otherwise compromise system efficiency. As building footprints become more compact and high rise, especially in the case of city universities, available roof space to demand sharply decreases and solar thermal will come into competition with other heating and ventilation systems using the roof as real estate for installation.
If accommodation is also shut down, such as over the summer vacation period, considerable damage can be incurred if the solar fluid within the collectors is not correctly managed. Overheating of fluid can 'cook' it to a tar-like consistency which can leave collectors irreparable. Solar thermal collectors from Adveco incorporate drain back functionality will prevent this overheating, but such systems require a 3m drop from collector to plant room to successfully operate, so location of plant room and presence of flat or sloped roofs all come into play when calculating the most effective installation. Fortunately, solar thermal also lends itself to working in conjunction with not only conventional gas heating, but also other renewable technologies including air source heat pumps, enabling a variety of bespoke, hybrid applications to be considered to meet the varied demands of higher education buildings.
Sustainable Hot Water & Heating For Higher Education
Establishing a culture of sustainability across higher education estates and embedding climate action priorities into strategic plans are now core objectives within universities and colleges across the UK.
In the 2018/19 academic year, UK universities emitted approximately 1.7 million metric tonnes of CO₂ equivalent emissions, making up 0.5% of the UK's total emissions. In response, higher education providers have made a collective effort to improve sustainability across the sector, with universities declaring climate emergencies and making commitments to create sustainable campuses and achieve net-zero emissions. In October 2021, 140 members of the COP26 Universities Network backed a new set of commitments on climate action to support targets for reducing carbon emissions by 78% by 2035.
Delivering green estate management policies to support net zero targets with the aim of transitioning to new ways of operating buildings or developing new, more environmentally friendly buildings or full estates are the foundation for reducing carbon footprints.
Higher Education Brochure