Sustainable Hot Water Products For Offices
Design, Supply and Support for Domestic Hot Water Applications for Office Buildings.
As the specialist in the design and supply of sustainable hot water applications, we can help address the sustainability of office spaces today. Unless a new build, which will be electrical-based, most refurbishments will look to either improve on existing gas systems or aim to completely replace them with electrical alternatives, typically heat pumps and/or electric heating with a boiler.
Preserving The Future of UK Office Space
Office space in England contracted by an estimated 18m square feet during the Covid-19 pandemic, the single largest shake-up of the sector has ever seen. Unsurprisingly developers reacted warily as occupancy levels remained low, and many older offices which no longer met the demands of a modern employer or stringent environmental standards were decommissioned or transferred to domestic applications. This has been especially pronounced in smaller cities and away from central business districts.
Despite this, rents for prime offices – classified by good location, accessibility, and energy efficiency of the premises – are increasing in all major UK cities. This is being driven by developers reacting to pressure to make more versatile office spaces, supporting the growth of agile working and greener by supporting shifting work patterns and meeting new environmental regulations. These workspaces demand fully equipped premises – often with reception, meeting rooms, dedicated cloakrooms and shower facilities, break rooms, on-premises cafés and canteens – and a wider working environment that addresses sustainability in line with corporate social responsibility.

Factoring hot water services into shared office space
Live Metering – The most cost-effective and efficient path to sustainability for your office's future.
If you need assistance with a system for your office, then Adveco's Live Metering service is for you. Live Metering requires an Adveco engineer to visit your site and install a water meter to provide hot water temperature monitoring for verified water data and comment on the risk of the existing system.
Adveco will return within the month to collect the meter. During these visits we can confirm space and clearances, and installation suitability, and once we have analysed the data give a truly accurate sizing and emissions/costs calculation.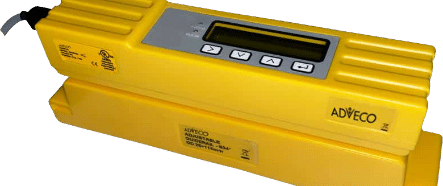 Adveco can then advise on a new hot water system which meets the demands of a building while increasing efficiency, lowering carbon emissions, and managing costs.
Heat Pumps
For new office buildings which are serviced by electricity only, the deployment of air source heat pumps (ASHP) as a method of pre-heating water represent a clear opportunity to introduce low-carbon technology to meet sustainability goals.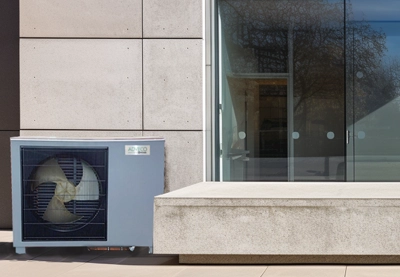 Heat Pumps For New & Refurbished Offices
For new builds, consultants are already specifying a greater electrical load to account for the additional power demands to support a mixture of heat pumps and direct electric afterheat necessary to meet the higher water temperatures and volume demands exhibited in large office projects. Due to their relative ease of installation compared to ground source systems, we will focus on Air Source Heat Pumps or ASHPs. New domestic hot water (DHW) systems will predominantly follow this model, taking advantage of heat pump performance efficiencies to create a hybrid approach to deliver pre-heating for as much as 75% of the water in a direct electric system. Able to draw and transfer thermal energy from air, under the right circumstances ASHPs represent an efficient way to significantly reduce the carbon emissions of a building and with no gas to the building, no local generation of NOₓ and no flue to install this clearly has its advantages.
However, with ASHPs offering greater efficiencies in low-temperature systems, the high-temperature demands of DHW for office applications can be a challenge. High temperatures need greater compression of the refrigerant, requiring more electrical input which results in lower efficiency or Coefficient of Performance (COP).
When analysing the value of an ASHP in terms of reducing CO₂ emissions the carbon intensity figures from SAP10 should be used and advantage of ASHPs is that their performance is greater than 100% as they extract additional energy from outside of the building's metered systems. This gives significant carbon savings but, when describing the efficiency of an ASHP, working flow water temperatures of 35°C are often cited. It needs to be recognised that this temperature is insufficient for office building applications. Even if a building has achieved Passivhaus standards, and this remains a rarity, 35°C is not going to be hot enough to safely provide DHW. Achieving 60°C in a calorifier (an indirect water heater)  is a basic requirement for a commercial DHW system, but means the working flow temperature from the ASHP would need to be at least 65°C. As well as struggling to achieve these temperatures year-round in the UK, the COP drops very low meaning you lose the value of deploying ASHPs. A calculated working flow of 55°C is certainly attainable from current generation ASHPs and this is why when designing commercial DHW systems it is preferable to use a hybrid approach that uses the ASHP as preheat and combines it with either gas-fired or more preferably electric immersion top up to achieve the required hot water temperature.
Attention also needs to be given to the Ecodesign established European temperature zones when assessing the suitability of a heat pump to serve a building's DHW heating load. For most of the UK the relevant defined temperature zone is 'average', where the annual reference temperature for the ASHP's Seasonal Coefficient of Performance, or SCOP, is -10°C. For some Southern and Western UK regions, the 'warmer' Ecodesign temperature zone can be applied for modelling, where the lowest the reference temperature will only fall to 2°C. These differing temperature regions can have a significant impact on the SCOP therefore it is important to ensuring the values entered into an assessment are both relevant and accurate for the installation. Incidentally, the SCOP of an ASHP is a far better overall gauge of the year-round efficiency as opposed to COP. While COP figures are often cited in technical literature, you must remember that these represent very specific climatic conditions that may only occur for a moment in time.
Commercial DHW applications using heat pumps are going to be complex and, compared to gas-fired alternatives, are going to have higher up-front costs. Designing the system for peak efficiency, and therefore sustainability, is a must to help offset this additional capital investment when compared to traditional gas-fired systems. With 50 years of specialist experience in creating bespoke commercial DHW systems, Adveco is well-positioned to support such projects with a wide range of air source heat pumps, indirect tanks and electric immersions. Under the right circumstances, such as new builds with a high degree of insulation, ASHPs represent an efficient way to significantly reduce the carbon emissions of office buildings. As the cost of grid electricity closes on that of gas, ongoing savings garnered from operating a hybrid ASHP-based system, plus the reduction in CO₂ emissions makes the technology a truly attractive prospect for the latest generation of office building projects. New innovations in heat pump technology and refrigerants will further enhance the advantages of the technology cementing its position as a truly viable alternative for the provision of commercial-grade hot water.
Discover more about air source heat pumps from Adveco for commercial office projects 
Solar Thermal for Office buildings
A proven and extremely reliable technology, solar thermal offers a clear path to reducing CO₂ emissions.
Correctly designed and sized to the application, such as office services, solar thermal systems can generate a considerable proportion of the hot water requirements for buildings that are already on-gas with relatively short payback periods on the initial capital expenditure, while leveraging lower-cost gas to meet peak demands.
Recognising the implications on operational expense when switching to all-electric water heating, we would also advocate the use of solar thermal in new builds to offset at least 30% of annual hot water energy demands, reducing both operational costs and carbon emissions.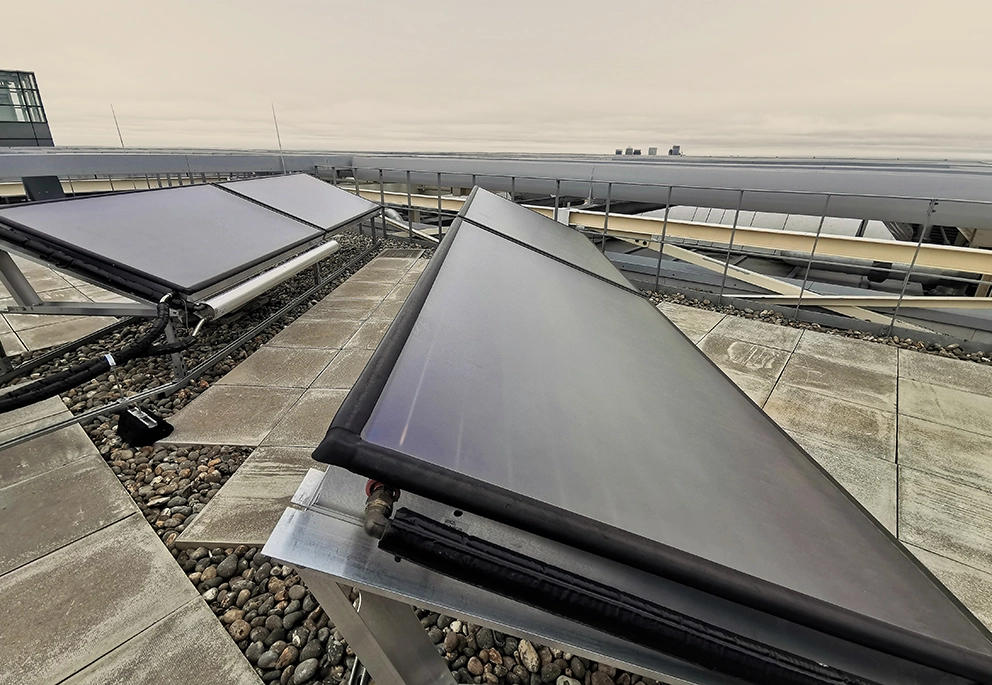 Solar Thermal For Office Buildings
Office buildings will typically use paired condensing gas water heaters sized to supply up to 100% of hot water demand to ensure consistent hot water availability throughout the year. The addition of solar thermal preheat on the cold feed reduces the need to fully employ the gas water heaters, reducing energy demands, costs and emissions. Solar Thermal alone will not provide for the entire hot water demand of a building, but, because of the 9-5 or staggered shift working patterns preheat storage demands can typically be shortened to three or four hours. As a result, systems employing solar thermal can be extremely effective, ideally allowing for approximately 20% solar fraction, or the percentage of the total thermal load satisfied by solar energy, thus reducing reliance on the gas boiler.
Adveco's application design specialism is particularly valuable when assessing the demands and limitations of an office building. For instance, flat roofs will find up to 25% of the total space available for solar panels will be limited by the allowance for access and prevention of shade which would otherwise compromise system efficiency. As building footprints become more compact and high-rise in urban centres, especially in the case of city hi-rise offices, available roof space to demand sharply decreases and solar thermal will come into competition with other heating and ventilation systems using the roof as real estate for installation.
Adveco collectors feature a copper meander absorber through which passes the solar fluid (glycol) transferring solar energy as heat to the system's water via an indirect cylinder. Collectors with an integrated drain back module, which prevents damaging overheating of the solar fluid, offer a low-maintenance, more cost-effective (as there is no requirement for large solar storage) and more efficient (as there is no call to dump unused heat) approach to incorporating solar energy into a sustainability strategy.
For existing office buildings with gas-fired water heating solar thermal is employed as a system pre-heat, reducing demands for gas to actively cutting carbon emissions from the buildings. Commercial new build and refurbishment however are either mandated or opting to shift to direct electric. Though perceived to be cleaner, they are finding the move comes with new financial challenges as electricity remains substantially more expensive to operate than gas – currently by a factor of 3.8. Undisputed carbon and cost savings mean we are seeing a definite upswing in interest for new solar thermal systems which can deliver a return on investment within a 10-year period.
For new projects, a hybrid approach harnesses solar thermal preheat, with afterheat simplified by integrating a packaged Adveco FUSION E electric water heating system combining an electric boiler and cylinder. The all-electric solar thermal approach reduces carbon associated with grid electric systems and aids in lowering operating costs.
The hybrid approach can be further extended with the inclusion of air source heat pumps (ASHP) to provide the initial pre-heat for the system. Operating at lower temperatures with the cold feed maximises the efficiency of the heat pump, reducing electrical operating costs and raising working flow temperatures from 10°C to 40°C. This is not hot enough for commercial applications, so the pre-heated water is then passed to the mid-solar thermal system to boost the working flow temperatures to at least 50°C. Although not operating at maximum potential, there is enough advantage gained from solar thermal to warrant the additional system complexity and capital investment. During summer months it is possible for the ASHP and solar thermal system to deliver the necessary 60°C working flows. But to ensure safe, consistent, and necessary high operational temperatures, the water is passed to the FUSION electric water heater. Here final consistent water temperatures of up to 65°C are assured year-round.
To date, Adveco has designed and supports more than 800 live solar thermal systems across the UK and such hybrid approaches are unavoidable if commercial office projects seek a sensible, practical, and cost-effective path to low-carbon hot water.
Sustainable Hot Water For Office Buildings
With concerns over the rise in emissions – and their effects on the global climate – larger, more forward-looking organisations are already realising and embracing the importance and value of embedding sustainability into growth & development strategies. This distinguishes them from the majority, however, which rely on legacy office space.  Recent studies suggest more than 70% of the UK's current office stock will still be in use by 2050, the majority of which currently suffer from a lack of retrofit needed to make them more energy efficient, comfortable, and attractive to workers. These ageing buildings will be directly challenged by modern shared working spaces and should be recognised as becoming a primary cause for employment churn in the near term.
Talk to Adveco today about introducing more sustainable hot water systems into your office buildings to immediately address the environmental concerns and comfort of workers.