EES Electric Water Heater
EES Electric Water Heater
EES Electric Water Heater

A.O.Smith's EES is a range of six vertical form factor, extremely compact electric water heaters. Available with capacities ranging up to 450 litres, EES is prefect for new build low carbon light commercial DHW applications and refurbishment projects seeking to reduce reliance on gas.
Features & Key Technologies
EES electric water heaters offer a range of choices, with each of the two replaceable elements provided with an independent control thermostat for adjustable heating capacities from 43 – 77°C. An automatic switch regulates the elements to transfer a maximum of 3 kW. Water capacities start at 115 litres, going up to 450 litres with a maximum of 8 bar supply pressure. The regulating thermostat will switch on the electric supply, automatically. The electric circuit will be shut and heat supplied to the water, whenever the temperature is inferior to the demanded one. The electric circuit will be interrupted again, at the moment the demanded temperature will be reached.
EES also comes with a replaceable magnesium anode for easy maintenance, while secondary protection is provided by a high-limit thermostat with manual re-set button and safety float switch.
Ideal Uses & Applications
Light commercial/communal residential DHW
Electric only applications
Gas replacement and low carbon new builds
Additional Information
Thermostat controls automatically regulate electric supply
Anodes should be inspected on an annual basis
Never put the heater into operation with the cold water supply turned off
Technical Specifications & Downloads

Adveco Ltd. is the independent hot water specialist for the commercial built environment and has historically traded as A.O. Smith Water Heaters in the UK.

Highest quality products and services
We prioritise our clients' needs to deliver bespoke, practical systems.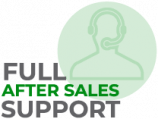 Maintenance and service packages, commissioning, spares, warranty and technical support for your application.