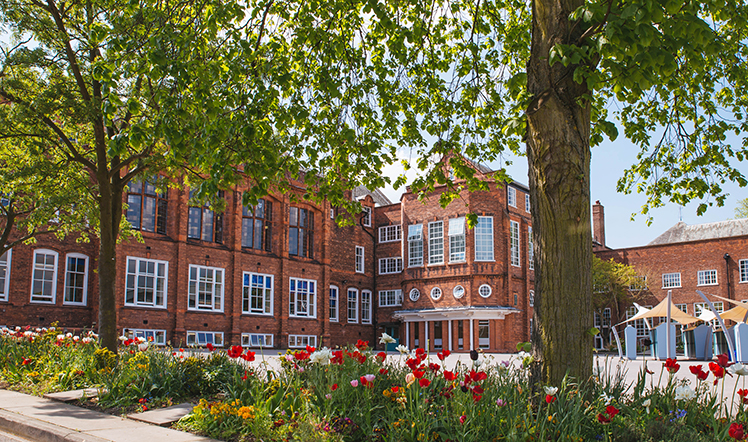 Adveco TOTEM mCHP, a Lesson in Reduced Energy Cost and Lower Emissions
Bootham School selects Adveco TOTEM m-CHP based system for heating and domestic hot water
System design modelling accurately predicts operational costs and payback period
Savings of approximately £37,000 per annum
Bootham School in York, a charitably run independent boarding school, has selected a TOTEM micro-cogeneration (m-CHP) based system from commercial heating and hot water specialist, Adveco Ltd, for sustainable and cost-effective provision of power and heating throughout the school estate. The system provides £37,000 in annual operational cost savings and reduces the school's CO₂ generation helping adhere to its Quaker values.
Working in partnership with Brentwood Consulting Engineers and contractor John Wright Electrical and Mechanical, Adveco recommended the installation of two TOTEM T25 m-CHP units and an Adveco MSS5000 for a pre-fed boiler system. Electrical generation by the m-CHP would decrease the energy import of the school, as well as lowering carbon dioxide emissions. Heat generated would be delivered to the hot water circuit which operates constantly through the entire school.
Adveco also provided Bootham school with a Full Maintenance Contract, covering all moving parts and controls, that guarantees long-lasting CHP unit efficiency.
"Whilst there are high servicing costs, we factored all of that into the total lifecycle costs. This means after 10 years rather than replacing the whole unit we can simply extend the contract with Adveco, saving the capital cost of installing new units,"
says Craig Pierotti, Estates Manager, Bootham School.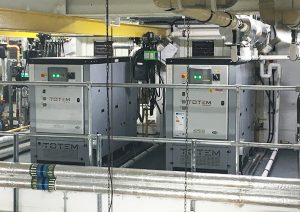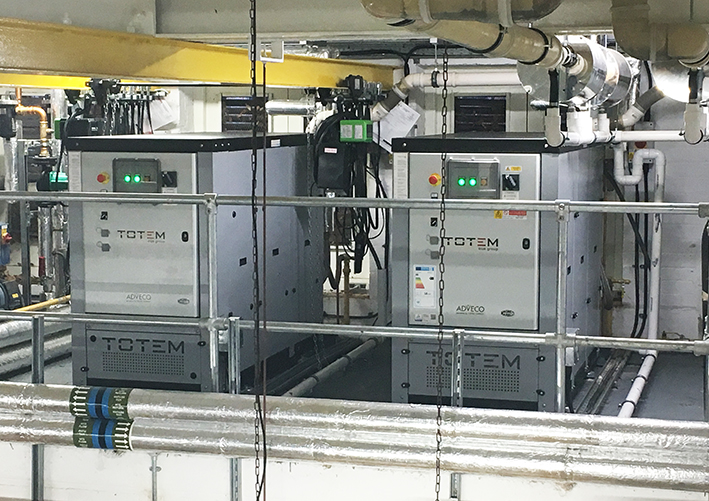 Running data was analysed against the pre-contract predictions which shows that the units are performing better in terms of cost savings per run hour. By extrapolating the figures to give a full year's running (6,677 hours) the payback periods for the project will be achieved and Bootham School should save an estimated £36,996. Importantly, the CHP system also enables the school to adhere to its Quaker values with CO₂ savings of more than 115,500 (kg.CO₂). The NOx emissions are also greatly reduced with emissions from the TOTEM units less than 40 mg/kWh of electricity output.
"The installation was completed on time, to cost, and successfully due to the team effort.  Everyone was on board and got on with it, otherwise, I don't think we would be in the situation where we are, producing the results we are today," says Craig "Adveco are constantly monitoring the CHP's for us and contact us only when they want to come and service the units. It is literally fit and forget. It's absolutely fantastic!"
Read more about the Bootham School TOTEM m-CHP project
---

Discuss your next project with Adveco whether it's a hydrogen-ready CHP or commercial Air Source Heat Pumps (ASHP).
Call Adveco today on 01252 551 540
https://adveco.co/wp-content/uploads/2019/01/Bootham-School-Adveco-mCHP-exterior.jpg
442
748
Gary Marshall
https://adveco.co/wp-content/uploads/2023/07/adveco-logo-hot-water-specialists1.png
Gary Marshall
2019-03-04 10:18:05
2022-03-23 13:10:13
Adveco TOTEM mCHP, a Lesson in Reduced Energy Cost and Lower Emissions