Extra Gains For Net Zero Restaurants
Commercial hot water specialist Adveco is working in partnership with a global restaurant brand to support the rollout of net zero restaurants demonstrating low emission innovations throughout its chain of UK drive-through and high street franchises.
Through its programme of live metering, Adveco demonstrated that servicing domestic hot water (DHW) water demands of between 1200-1500 litres per day could equate to as much as 20% of total energy usage within the organisation's target net zero restaurants. A recent refurbishment of a restaurant in the King's Cross area of London provided an opportunity to address the emissions generated by this provision of hot water for the restaurant. In addition, working within existing building limits means applications need to maximise often limited plant room space. This was especially true of this central London location which also faced problems with limescale due to the hardness of the water supply.
Working to an all-electric specification, Adveco designed an application that would harness a 9kW FPi32 air source heat pump (ASHP) for preheat and supplying additional top-up heat with an ARDENT P 12kW electric boiler. These would supply thermal energy to a mains water-fed compact SST500 stainless steel twin-coil indirect cylinder.
By combining ASHP and an electric boiler Adveco can address many of the complexities associated with integrating ASHPs into existing buildings. This combination enables systems to be sized down, by as much as half in terms of ASHP requirements delivering immediate capital savings as electric boilers are far less expensive compared to an equivalent heat pump. You also immediately reduce the physical size of the system, embodied carbon and demand from the electric supply. Additionally, the system retains redundancy should there ever be a failure.
Balancing a hybrid electric system is key to ensuring efficient operation. Adveco supplied the controls to assure the water heating remains consistent, optimising the ASHP preheat and top-up from the boiler to reduce energy demands and the building's emissions.
The other advantage of incorporating the ARDENT electric boiler was that it heats water using immersion heaters located in a small tank within the boiler housing rather than directly installed into the hot water tank. This creates a sealed 'primary' loop to the indirect coil in the SST500 cylinder. The electric boiler heats the same water continuously so there is only a small, finite amount of scale in the system which will not damage the elements. The heat exchanger in the cylinder is a large coil operating at a relatively low (80°C) temperature eliminating the common problems of destructive limescale build-up seen in direct immersion electric heating.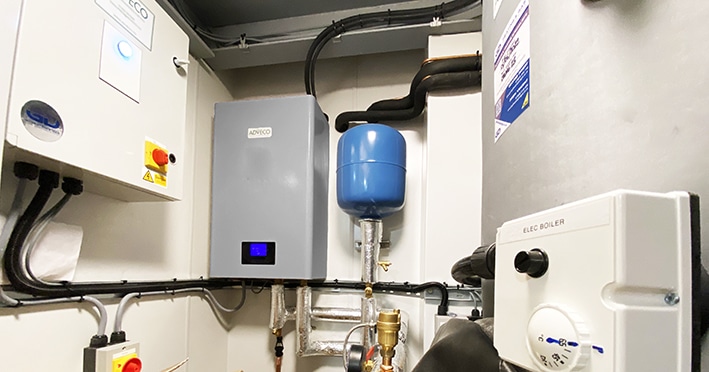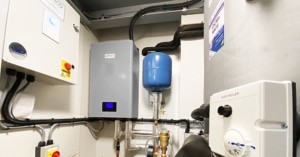 The electric boiler operates at the same efficiency as an electric immersion heater (100%) and so the only overall difference in system efficiency is the minimal pump electrical consumption and a negligible amount of heat loss in the pipework
Although the system takes up a little more space than an all-in-one electric cylinder, it has more versatility. It requires less clearance for the cylinder, so it was compact enough to fit into the extremely limited space allowed for plant in the restaurant. With the cylinder forming significantly less scale, the restaurant has gained from vastly improved reliability while reducing maintenance demands, for both operational and maintenance savings on top of crucial emission reductions.
Visit the Adveco restaurant resource for more guidance on delivering low carbon and renewables to help achieve net zero restaurants by 2050, or read our free handbook. 
https://adveco.co/wp-content/uploads/2022/09/Restaurant-ASHP-blog.jpg
494
1036
Gary Marshall
https://adveco.co/wp-content/uploads/2022/10/logo-and-strapline.png
Gary Marshall
2022-09-13 08:21:59
2022-09-13 08:21:59
Extra Gains For Net Zero Restaurants