Adveco L70 ASHP For Hot Water With 70% Less CO₂
90 kW maximum output for hybrid domestic hot water and heating
Specifically designed for the UK climate (-20°C to +35°C)
Reduce CO₂ by as much as 70% compared to gas-fired systems
Nov 9th 2020 – Commercial hot water and heating specialist Adveco extends its range of commercial air source heat pumps (ASHP) with the introduction of the Adveco L70. This high-capacity air-to-water monobloc heat pump is designed for the UK climate providing hybrid domestic hot water (DHW) and heating.
Bill Sinclair, technical director, Adveco said:
"In conjunction with Adveco's bespoke application design, the L70 offers a comprehensive response for sustainable heating and hot water, providing high-efficiency, low-emission, low cost to operate systems for the life of a commercial building."
Rated 70kW for typical UK operation at 5°C but climbing to a maximum 90 kW from a single compact unit, and with a seasonal coefficient of performance (SCOP) as high as 4.08 the L70 is perfect for large scale commercial applications and can operate as part of a cascade installation for projects demanding greater capacity. The L70's dual compressor configuration allows for staged start-up to limit current draw and gives the flexibility to drop to half output under low load conditions.
With ASHPs offering greater efficiencies in low-temperature systems, the high-temperature demands of commercial DHW applications can be a challenge. Achieving working flow temperatures up to 60°C, the L70 supplies preheat for hybrid applications composed of combinations of plate heat exchangers, buffer vessel, with calorifiers, gas-fired boilers or direct-electric water heating providing essential additional heat to meet commercial requirements.
The L70 will dramatically lower CO₂ when analysed using the carbon intensity figures from the new SAP10.  Compared to gas-based systems the carbon emissions are reduced by around 70%, when using the SCOP of 3.47 measured at 55°C flow temperature (Ecodesign warm European temperature zone with a reference design temperature of 2°C).
The L70 remains eligible for applications for the non-domestic Renewable Heat Incentive (RHI) until March 2022 and is ideal for projects applying to the Government's Public Sector Decarbonisation Fund to drive energy efficiency.
Additional information: L70 ASHP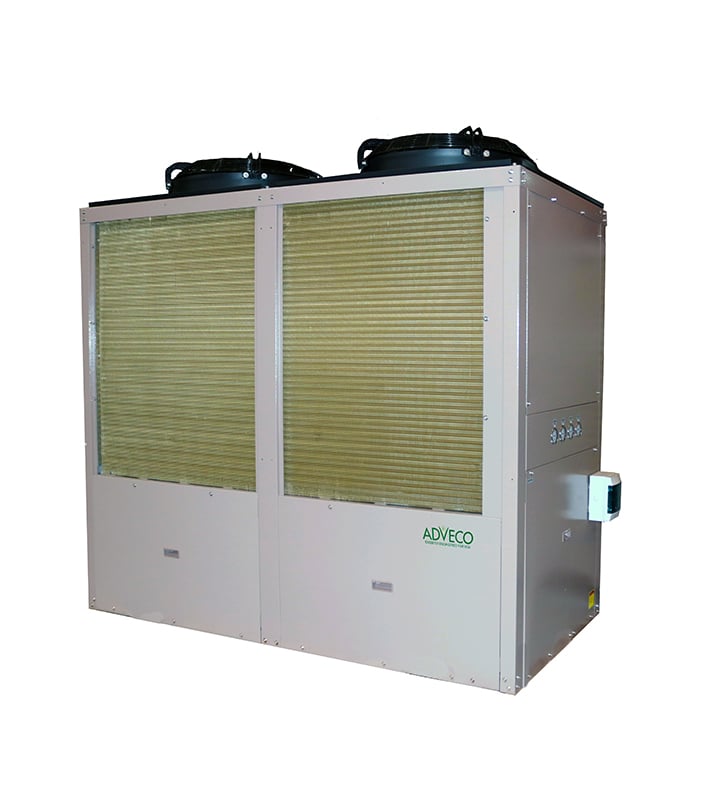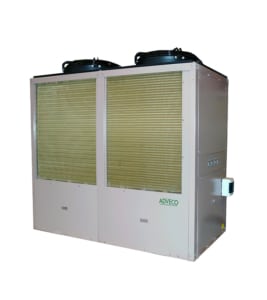 Dual refrigerant circuits with smart control and built-in remote monitoring system.
COP 3.65 (7°C ambient) to 2.83 (-10°C ambient) at 35°C water temperature.
Maximum working temperature/ambient air -20°C to +35°C
Automatic reverse cycle for built-in frost protection.
Maximum working temperature range /waterside 25 to 60°C
Noise level 51.6 dB(A) (sound pressure at 10m).
W2180mm H2100mm D1070mm.
Dry mass 900kg.
https://adveco.co/wp-content/uploads/2020/11/L70-11-72dpi-.jpg
452
709
Gary Marshall
https://adveco.co/wp-content/uploads/2022/10/logo-and-strapline.png
Gary Marshall
2020-11-09 08:52:40
2021-10-01 12:44:04
Adveco L70 ASHP For Hot Water With 70% Less CO₂