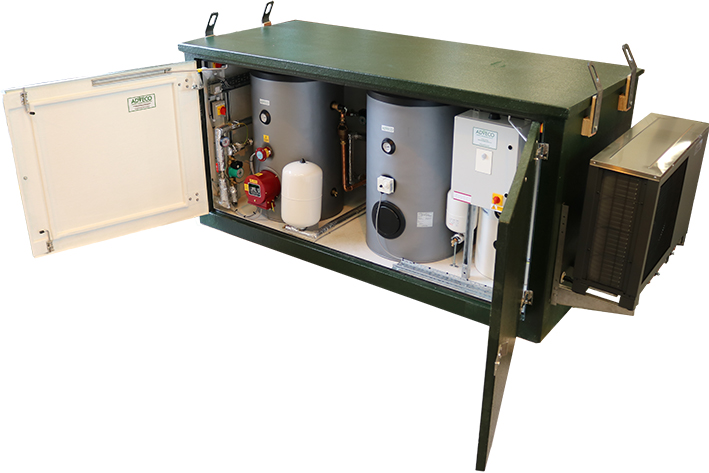 Adveco Packaged e-Hot Water System For Low Carbon Hot Water
Reduce operational costs by offsetting up to 70% of the energy required by equivalent sized systems. Dramatically reduces CO² emissions
Unique low heat intensity specification reduces the threat of scale formation
Built-in backup for system resilience, ensuring consistency of service
Hot water and heating specialist Adveco, offers commercial businesses with large hot water demands but space limitations a complete, highly-efficient, low carbon response with its Packaged e-Hot Water System.
This prefabricated all-electric water heating system brings together Adveco's FPi-9 Air Source Heat Pump (ASHP), an Adveco 200L GLC indirect preheat tank, and Adveco 200L GLE direct electric water heater to provide reliable high-temperature water in a convenient, packaged system housed in a compact GRP housing.
Bill Sinclair, technical director, Adveco says:
"The Packaged e-Hot Water System leverages all the advantages of off-site construction to provide a standardised, resilient, environmentally friendly, low carbon, hot water system that helps reduce both a building's energy consumption and operational costs across its lifetime."
Adveco's Packaged E-Hot Water System makes particular use of the FPi-9 ASHP to provide the system preheat from 10°C to 50°C, supplying 70% of the DHW load.
Offsetting 70% of the energy requirement means the Packaged e-Hot Water System can demonstrate a 47% reduction in energy demands and CO² emissions for the same output of 500,000 litres of hot water each year when compared with a similar direct electric-only system. The reduced energy demand also means operational savings can be added to the capital savings secured during the design, supply, and installation phases.
A completely new specification that lowers the heat intensity, without detrimental effect to the demands for hot water, means the Packaged e-Hot Water System is also more resistant to scale, reducing maintenance demands.
The GLE also has an additional 6kW immersion heater to provide backup in case of failure of the lead heat source for sites where hot water is business critical. The Adveco designed control system monitors the heat sources, and in the case of failure, it can automatically activate the backup system.
Adveco's Packaged e-Hot Water System is ideal for a wide range of commercial properties with regular hot water demands such as restaurants and boutique hotels, offices, schools, and light industry. The system is also perfect for both new builds or refurbishment where space is at a premium.
Technical Features
FPi-9 ASHP supplies 9kW at 7°C outdoor temperature
Nominal 18kW of heat is input to the domestic hot water (9kW ASHP and 9kW electric element)
Sized to meet the typical needs of a larger facility and can supply 314 l/peak hour. Based on a 12-hour daily operation and one peak hour, this equates to 1370 litres of hot water per day
---

To discuss Adveco's packaged plant room solutions for your commercial hot water requirements, call us on 01252 551 540 or complete the contact form.
https://adveco.co/wp-content/uploads/2020/07/Adveco-PPR-ASHP-Jan-2020-image-1-72dpi.jpg
473
709
Gary Marshall
https://adveco.co/wp-content/uploads/2023/07/adveco-logo-hot-water-specialists1.png
Gary Marshall
2020-08-05 09:27:25
2023-02-20 12:06:40
Adveco Packaged e-Hot Water System For Low Carbon Hot Water