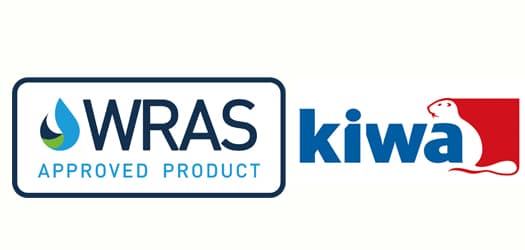 Meeting Regulatory Requirements – WRAS & KUKreg4 from Kiwa
At Adveco we work hard to ensure our products are fit for purpose and meet stringent UK water regulations. To ensure this, our water products are independently vetted and can demonstrate approval from both WRAS (Water Regulations Approval Scheme) and Kiwa Watertec.
The regulations set legal requirements for the design, installation, operation, and maintenance of water fittings, systems, and appliances. They have been designed to prevent drinking water contamination and prevent misuse, waste, undue consumption, and erroneous measurement. As an independent UK certification body for plumbing products and materials, WRAS approvals demonstrate that, in accordance with these water fittings regulations, a material or water fitting is of suitable quality and standard.
WRAS has been the most well-known approval among contractors, specifiers. As WRAS approval certificates no longer involve the water authorities themselves in the decision making, the water authorities refer to a product requiring compliance with Regulation 4. Not specific to WRAS, Regulation4, states that:
"every water fitting should be of an appropriate quality or standard and be suitable for the situation in which it is used."
Regulation 4(2) provides options to demonstrate compliance, such as CE Marking where applicable, appropriate British or European standards, and also a specification approved by the regulator. This approval is demonstrated with the KUKreg4 approval mark, issued by Kiwa and has become an accepted way of demonstrating compliance for several years for water authorities, specifiers and contractors, who gain assurance that the product in question has undertaken the required testing, and meets the necessary design requirements for its use. Similarly, approval granted by WRAS means the product is of suitable quality and standards to avoid water contamination and minimise waste when installed properly.
Anything from pipes, fittings, taps, showers, washing machines, dishwashers, to coffee machines, boilers and toilets, all need to comply with the Water Supply (Water Fittings) Regulations and bye-laws. If a product in your property is found to be non-compliant with these regulations, a replacement can be demanded, with all the associated unplanned costs. Should unregulated fittings be deemed dangerous then prosecution is also possible. The regulations impose a legal duty on everyone to use suitable water fittings when connected to public water supplies. So, ensuring products meet regulations with the correct approvals in place is important.
Whilst approval is not mandatory, the testing of the products is. It is worth remembering that not all products sold have been appropriately tested although most buyers understandably assume that anything sold to them will meet legal requirements. So looking for the appropriate WRAS or Kiwa approved statement or logo is time well spent. Water authorities are regularly using the terminology that products must be 'Regulation 4 compliant', contractors and installers still need greater visibility of KUKreg4 in the industry. But they should recognise its validity and be able to communicate that with clients who may be unfamiliar with the certification. Regulation 4 compliant testing is undertaken in an ISO 17025-accredited laboratory and complies with ISO 17065 product certification.
For reference, KUKreg4 is not only accepted across Europe, but it also offers two levels of compliance – level 3 and level 1+. Level 3 is the equivalent service offering of WRAS (initial testing, no annual audits and a full re-test after five years). Level 1+ involves initial testing, but no full re-test after five years is required – assuming there are no significant changes to the product – as certification is maintained via annual audits of the manufacturing facility.
It is also worth noting that WRAS approval may restrict how a product may be installed and used. To help installers, every water fitting approved is listed with one or more "requirement and installation notes." These explain any installation conditions, which must be followed, which were applied as a condition of each WRAS Approval.
All water installations in the UK need to comply with the Water Supply (Water Fitting) Regulations. This is important for public health, for safeguarding water supplies and promoting the efficient use of water within premises across the UK.
Further Information
Click here for more about WRAS
Click here for more about Kiwa
---

With Adveco products conforming to UK water regulations, you can be confident on their compliance as well their effectiveness.
For more information on our commercial heating and hot water systems, call Adveco on 01252 551 540.
https://adveco.co/wp-content/uploads/2021/09/Kiwa-WRAS.jpg
250
525
Gary Marshall
https://adveco.co/wp-content/uploads/2023/07/adveco-logo-hot-water-specialists1.png
Gary Marshall
2021-10-08 09:28:24
2021-10-08 09:29:13
Meeting Regulatory Requirements – WRAS & KUKreg4 from Kiwa