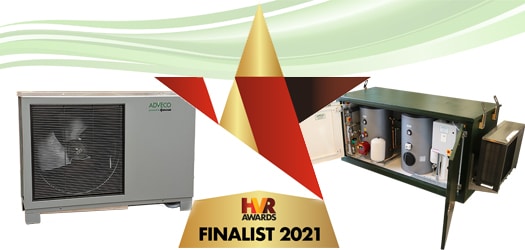 Adveco Named Double Finalist in 2021 HVR Awards
Packaged e32 Hot Water Systems named finalist in the HVR 2021 Commercial Heating Product of the Year category
FPI32 named finalist in the HVR 2021 Heat Pump Product of the Year category
Hot water and heating specialist Adveco is proud to announce it has been named a finalist in two key categories in the 2021 Heating & Ventilation Review (HVR) Awards. Adveco's Packaged e32 Hot Water Systems has been named a finalist in the HVR 2021 Commercial Heating Product of the Year category, while the FPi32 range of air source heat pumps (ASHP) was named a finalist in the Heat Pump Product of the Year category.
The HVR Awards celebrate the products, brands, businesses and people that have led the way with their innovation and unrivalled levels of excellence, inducting them into the prestigious HVR Awards 'Hall of Flame'.
Bill Sinclair, technical director, Adveco, said:
"Both products take full advantage of using R32 refrigerant to take us toward responsible, sustainable systems that deliver business-critical hot water without harming the environment."
The Adveco FPi32 is a range of compact monobloc design 6, 9 & 12 kW air to water heat pumps providing hot water at 55°C, or higher in hybrid systems. The FPi32 range leverages R32 refrigerant to enhance year-round efficiency (COP as high as 5.23) while reducing the global warming potential (GWP), thereby lowing environmental impact.
The FPi32-9's compact monobloc form factor also makes it perfect for integration into Adveco's Packaged e32-Hot Water System.  A complete, highly efficient, low carbon, all-electric packaged water heating system that uses the FPi32-9 to provide preheat for reliable high-temperature water supplied in a convenient GRP housing.
The air to water heat pump provides the system preheat from 10°C to 50°C, supplying 70% of the DHW load. Offsetting 70% of the energy requirement means the Packaged e32-Hot Water System can demonstrate a 47% reduction in energy demands and CO² emissions for the same output of 500,000 litres of hot water each year when compared with a similar direct electric-only system. The reduced energy demand also means operational savings can be added to the capital savings secured during the design, supply, and installation phases.
The system is also ground-breaking in the application of a completely new specification that lowers the heat intensity, without detrimental effect to the demands for hot water, meaning the Packaged e32-Hot Water System is also more resistant to scale, reducing maintenance demands.
"By unifying innovative, low carbon technology with excellence in application design, all provisioned under an offsite construction model, we can bring a wealth of new advantages for consultants, contractors, installers and owner-operators. FPi32 and our pre-sized e32-Hot Water System not only go a long way towards helping businesses meet carbon targets this decade but also help keep running costs low,"
adds Bill.
The 2021 HVR Awards winners will be announced in a virtual presentation on Oct 7th. For more details visit the HVR Awards website.
---

Speak to Adveco for all your commercial hot water and air source heat pump requirements. packaged plant rooms. or even our solar thermal solutions.
Call us on 01252 551 540 or see other options on our contact page.
https://adveco.co/wp-content/uploads/2021/09/HVR-Awards-product-banner-jpg.jpg
250
525
Gary Marshall
https://adveco.co/wp-content/uploads/2023/07/adveco-logo-hot-water-specialists1.png
Gary Marshall
2021-09-06 09:15:54
2022-07-14 09:23:16
Adveco Named Double Finalist in 2021 HVR Awards