Prefabricated Hot Water Systems For Schools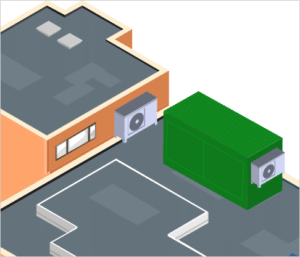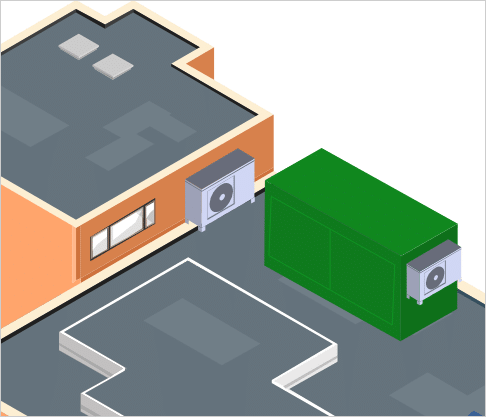 Prefabricated hot water systems for schools can drive real value from previously underutilised space as well as address the need to introduce new, more sustainable practices…
With larger class sizes demanding more extensive facilities, the most valuable assets any school can have are its internal spaces to grow, develop and drive advantage. Within the school building, this leads to a balancing act between granting usable, comfortable space for staff and pupils while meeting the demands of a building's critical operating systems that include hot water and heating.
School plant rooms will vary from purpose-built to jury-rigged spaces used to accommodate heating and hot water systems. Basements are typically repurposed in older buildings, whilst it is not unusual to find them tucked in amongst other rooms creating a mixed-use setting. Education estates need to understand how advantageous it can be to separate such building services and relocate them away from those using the building whilst improving the efficiency of the system for a host of benefits including lower operational costs and reduced emissions.
Simply upgrading to a new boiler or electric water heater can deliver notable efficiency improvements over models from just 10 years ago, and today's modern appliances pack that into much more compact, space-saving formats. So, you can gain greater capability from a smaller footprint in the plant room, and potentially reclaim a few square meters. But what if you could reclaim the entire plant room?
Refurbishing plant to a new location may sound drastic, but that need not be the case if we apply offsite construction. This enables the creation of modular units or systems that are sized and pre-installed and ready for relatively quick and simple connection once delivered to a site. Depending on the chosen location, such prefabricated plant rooms can be of considerable size and complexity.
Prefabricated Hot Water Systems For Schools
With production work located offsite in a controlled, purpose-made factory environment, the system build gains enhanced quality control with manufacturer assured standards. Importantly for education projects where works windows can be extremely limiting the plant room element of a project can progress at the same time as other groundworks or site installations. This work will also not be affected by any forced downtime on-site, such as from Covid outbreaks, which can quickly become a major issue for a time-sensitive school building project. Without distractions from other typical construction site activities, the plant room work can be rapidly progressed ready for delivery and final fit. Faced with narrow construction windows allowed within the school holidays, a completely new plant room can be craned into position on day of delivery. Without the need for extended plumbing and electrical installation, final connections are simplified and can be completed in a matter of days. This is not only more cost-effective, but it also helps simplify and accelerate final system commissioning.
As well as extending options for refurbishment, this approach also provides greater flexibility when designing new builds. Adveco recently designed and built a complete, prefabricated plant room for a Berkshire school. In this case, hot water and heating demands had increased due to a growing number of pupils, which in turn was limiting the incorporation of large scale plant room space within a new building. The GRP enclosure, which was sited on the new building's flat roof, incorporated a complete integrated system built around a cascade of condensing boilers with an intelligent control system for optimised performance and continuity of service.
Flat rooftops, commonly used in school building design, are truly "dead space" for most buildings, but they provide a broad opportunity to relocate heating and hot water plant safely and more securely. They are also excellent for positioning hybrid systems that integrate renewable and sustainable technologies. By locating a packaged air source heat pump (ASHP) based system onto a rooftop, the application gains unimpeded airflow while operating noise becomes almost unnoticeable, preventing any distraction in the classroom.
Flat roofs are also perfect for the installation of solar thermal systems, where a frame is constructed to align the collectors for optimal heat collection and transference to the building's water system. Location at height is recommended from a system security perspective because vandalism, usually because of hurled missiles, can prove highly expensive to resolve. But perhaps one of the biggest operational threats is to the efficiency of a solar thermal system, which comes in the form of heat loss from long pipe runs between collector and hot water storage. By locating the plant room on the roof, long pipe runs and resultant thermal losses are minimised helping to protect the investment.
With the proliferation of car ownership, it might at first seem unlikely that the staff car park is being underused. But the drive to encourage walking, cycling and car-sharing has had an impact, and developers who have previously pushed for more open parking space are now being challenged to repurpose some of that space. In terms of identifying functional opportunities to better leverage this space, the siting of plant fits the bill. Turing over just one or two car spaces can have a dramatic impact on the capability of heating or hot water system, providing enough square meterage to easily accommodate a mid-sized packaged plant room offering, or the space could be used to locate air source heat pumps (ASHP) that drive system sustainability whilst lowering CO₂ emissions.
Offsite construction is the perfect example of where application design, system prefabrication and expertise in hybrid and renewable technology can help maximise underutilised space on an education project. Prefabricated hot water systems for schools are one of the easiest ways to combine the latest in commercial ASHP technology with high-efficiency direct electric water heaters, or solar thermal with gas-fired appliances to provide reliable high-temperature water in a convenient, packaged system that delivers truly sustainable applications that demand less fuel, reducing emissions and lowering ongoing operational costs. That is a core demand for any education estate manager faced with driving sustainability in buildings within the limits of often tight budgets.
Discover more about packaged plant rooms and sustainable systems for education buildings from Adveco.
https://adveco.co/wp-content/uploads/2022/04/Prefabricated-Hot-Water-Systems-For-Schools-banner.jpg
494
1036
Gary Marshall
https://adveco.co/wp-content/uploads/2023/07/adveco-logo-hot-water-specialists1.png
Gary Marshall
2022-04-11 11:14:11
2023-09-21 13:55:51
Prefabricated Hot Water Systems For Schools